The Bach Music Complete Edition / The Bach Music Gesamtwerk: 142 CDs + 10 Free Bach Add-Ons* 
The Bach Music Complete Edition. * The price for this work of art "alone", the Bach Music Complete Edition from 2014 is unbelievable. However, if you add 10 free Bach add-ons – which you personally will love or you give some away to friends – than this top offer is  definitely unbeatable: The Bach Music Complete Edition.
If you add up the value of the 10 free Bach add-ons (... if you chose this option: 1. € 26.90 for the "Bach Biography for Children" with 66 x music, 2. € 9.99 for the Bach Tributes Medley. So, it's a total of € 36.89 as additional gifts, when you purchase the outstanding high quality Bach Music Complete Edition in my shop.  
* More info is what you get below the shop, two sections below.
---
Bach Music Complete Edition on 142 CDs + 10 Free Bach Add-Ons *
Item-No.: 100.000
Included in the delivery are: 
The Bach Music Complete Edition (142 CDs) +
Your 10 Free Bach Add-Ons
available
delivery time: 3 - 14 days (... depends on shipping destination)
---
Here They Are: 10 High Value and Cool Bach Add-Ons with the Bach Music Complete Edition (Bach Musik Gesamtwerk)
 

Bach Item as a Free Add-On, that Come with the

Bach Music Complete Edition (142 CDs - 1 Box)

 

 
Value
1

The Historic Music Complete Edition of Music Sheets as PDF (Alte Bach-Gesamtausgabe)

  €

Priceless !

2

Johann Sebastian Bach for Children (... audiobook)

  €

19,90

3

Johann Sebastian Bach for Children (... PDF file)

  €

9,99

4

Johann Sebastian Bach for Children (... e-book)

  €

 9,99

5 

The Bach Necrology Audio Book

  €

4,99

6

The Bach Quotes and Tributes Medley Audio Book

  €

9,99

7

The Little Bach Figure

  €

9,90

8

The Small Bach Bust

  €

14,90

9

The Johann Sebastian Bach Coloring Book

  €

6,99

10

1 Music Calendar 2020 (... Surprise)

  €

11,90

 
 
 
___________
 

Complete Value of all Bach Add-ons

  €
98,55
You need a currency converter? Please click here.
* For way more information about the 10 free Bach add-ons click here: There, reading and exploring is also fun. Please remember later that it is a decision of the publishing house which music calendar you get as Bach add-on No. 10.
At the moment it is most likely the composers calendar "Klassische Komponisten - Classical Composers" for the year 2020.
With reservation, it is probably this music calendar, which you get in DIN A4 (... 8.3 x 11.7 inch = 210 mm x 297 mm) with your Bach Music Complete Works / Complete Edition. For the year 2020.
---
How Many CDs Are Ideal? Is the 2014 Edition an "Old" Edition?
An "old" edition? For heaven's sake no, such a complete work is published by a music label, a music publisher, not every 5 or 10 years. Why should they? If the quality is top and all pieces are played by gifted musicians, why should it be? The only consideration: If an edition is finally sold out and you have a new one produced, then you just renew the box again and the edition seems super-new again.
155 CDs, 160 CDs, 142 CDs: what is the best deal, only in quantity? None of the offers, because all of them feature the complete edition of music by Johann Sebastian Bach. None of the pieces in Bach's Complete Edition has been lost again, as it was the case in 1750. So: 1750 we already knew for the next 80 years, where the notes are. At least that was true for most of them, because the whole work had not been lost in the sense that it had been lost for many decades. And following this misunderstanding: every collection contains all pieces of Johann Sebastian Bach's complete works of music. 

There is no better and clearer way to get to know the genius of Bach: The great ones about Johann Sebastian Bach: Tributes, Bach music and a 9-minute mini-biography: this Bach medley is only one of 9 presents to choose from.
---
Is One Box Like The Other Box And One Volume Like The Other Volume? 
And why do you find so many alternatives, so many prices and so many different boxes (... the complete edition is only available in such a box with one cardboard slipcase per CD, otherwise you could hardly lift it. And of course: this is somewhat exaggerated). In ever shorter sections, not only cars, the Internet and music styles are changing, but also recording techniques, compression and quality standards. And so it is that Brilliant Klassik, a music label - a music publisher - optimizes its offer. In the 2014 edition, the main factor was to place the complete edition on just 142 CDs thanks to a better arrangement. In addition - as with every new edition - there was an optimization of the technical and performance quality.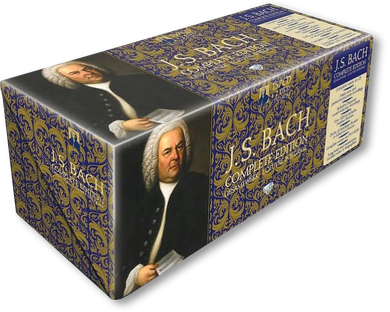 Don't let yourself be confused in your decision: This is the 2006 edition of the music label Brilliant Classic. It is practically the same offer, introduced around 10 years ago. 1,128 Bach works. And it is still offered today by some dealers. We offer you always and only the current edition. 
---
Renate Bach Publishing "Bach 4 You" – Bildstrasse 25, 74223 Flein / Germany – Phone: +49 7131 576761 – info (at) bach4you.de