1,000+ Gifts for Musicians, Nothing But Gifts for Musicians ... Plus? Bach Gifts, Nothing But Bach Gifts ... Of Course. Welcome Here... In My Shop!
---
* = All calendars come in poster format style = in European format style. Learn more here.
---
* = All calendars come in poster format style = in European format style. Learn more here.
---
* = All calenders come in poster format style = in European format style. Learn more here.
---
---
---
---
---
---
Gifts for Musicians and More Gifts for Musicians: Please Let Us Here - In the Oncoming Next Paragraphs if This Page - Just Entertain You. 
Gifts for musicians. This first page of the shop – and that is true only for the lower part of this page below this headline – is just created for those internet surfers and visitors of our shop, who already had fun reading on the "Bach On Bach" website. Or with another website of the "Bach On Bach" project. As this lower part  of this page does definitely not come "to the point" soon. And that is true for the coming paragraphs too. As this is the section for you, just to browse a little and to poke around. With much time to read: That is to say just to kill time. Just to learn more and more about gifts for musicians and more gifts for musicians, which we found for you. Or about gifts for musicians, which we created for you. Or about gifts for musicians, which we wrote for you, put together for you or just "invented" them. With our sense of entertainment. With the way of husband  writing text and with his hullabaloos. And you already realize it: I as well do not get "to the point". However: You just don't read here, because you are "streamlined" checking on the internet for quick gifts for musicians. You are probably here, just because you have fun reading.
---
Is It this Shop, that Offers the Most Bach Gifts on Earth? Or Is There Actually One More Anywhere Out There?
Somehow already now here is the place with the most gifts related to the subject of Johann Sebastian Bach. However: Maybe just indirectly, because from here you get t Zazzle too, better to our Zazzle Shop. And everything, what you find at Zazzle you can order from our shop too. After that we just add everything related to Bach, what you can't buy at Zazzle. Now after that our "mission is accomplished": This is the portal with the most gifts for musicians related to the Court Composer from Eisenach, Thuringia, Germany. What Zazzle is? Zazzle is an internet portal offering "individual gifts". We have a cooperation. And for that reason we can offer you many, really many, many very exciting gifts for musicians: Bach on t-shirts, Bach on mouse pads, Bach on coffee mugs and Bach on watches. Just: gifts for musicians, nothing but gifts for musicians.. All gifts are designed with artwork from our publishing house: Bach actually in unbelievable many varieties. And "just in case": If you find a store which offers more gifts for musicians... - that is to say more gifts for musicians related to the subject of Bach ... than please do us a favor and tell us.
---
The Supreme Discipline of Gifts for Musicians Related to Johann Sebastian Bach: Our Two Books About the Composer on "Real Paper"!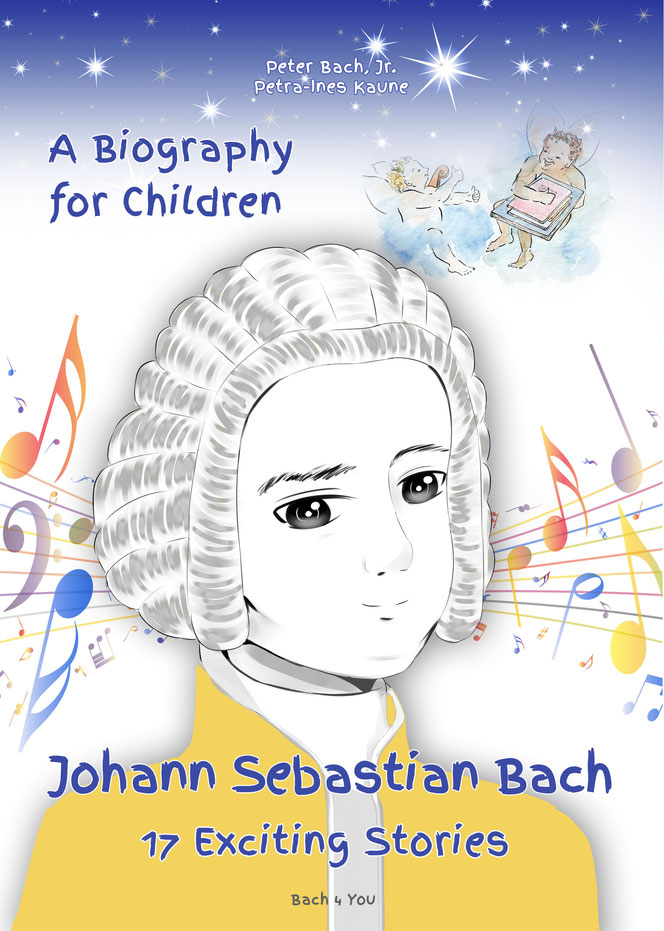 Gifts and more gifts: How could I start this chapter different, than with the first book in my publishing house sortiment. The book about Johann Sebastian Bach is written by my husband and the illustrations are painted by his sister Petra-Ines Kaune.
Bach gifts. You are perfect here in any aspect. Firstly here you will find books. With one exception it's all about new books. Just the "Little Chronicle of Anna Magdalena Bach" is so much worth reading, that we offer this little exception to the rule: A preowned book in at least good condition.
So, we get to the second category: It's our own books our own Renate Bach Publishing House. These are books, which my husband wrote and "invented" and I made these ideas and scripts a book afterwards. With my layout, my addition of illustrations and the mix with photos and paintings they are actually the perfect gift, as all books are started to be a gifts later on. From the beginning. Of course we dearly love our "Biography for Children", the cute story around Bach's life, narrated by the little cherub Balthazar and supported with music by his BFF, Veit. It is a pedagogical gift, however you don't realize that purpose. Of course Veit doesn't accompanied the paper book in a musical way. This is what he does in a different gift category, which is the audiobook. But we want to tell you more about that later. A biography for teens is the next project, a book about Bach postage stamps is planned, however this will be a gift then only. And there are more titles and ideas.
A third category of books are our personal recommendations. 53.000 publications are there linked to the theme of Bach, of course not all are good as a gift, as essay, newspaper articles and graduate thesises are included in this number - plus books. So, the Books about Bach are biographies,m novels, stories, short biographies and historic biographies, too. In every section of these we have decided for a favorite book. So, these are not the best in each category, but those which we like best. So it's our opinion, it's not an objective judgement. So I present you on separate page our "favorites" ... and they are perfect as a gift, of course. The sections? Biographies, Fiction, historic biographies, coloring books ( .., with a smile), Bach books for kids, unusual theme biographies and tourist information for travelling in the matter of Bach.
Finally there is a forth category in my shop. And that is preferably all books, which you can buy related to the theme of Bach. Here there once will be the place, where you will get entry to all Bach books in a summary, if you are on the hunt for a gift, or if you "precribe youself" a gift. All are listed, however each is listed only once. It's well arranged and complete. That is what I want you to meet everywhere on my platform related to gifts and Bach.
It's without question the most detailed biography of the most distinguished Bach connoisseur of your present time, that is to say Harvard Professor Christoph Wolff, how teaches at the university of the Bach city of Leipzig as well. Those who have read this book, know every detail regarding the life of Bach. It goes without saying that you can buy this book here as a gift.
---
eBooks. Our eBook About Bach Is One of the "Fastest" Gifts
---
The Audiobook with "Veit and Balthazar" - What an Exquisite Version!
The audiobook in 3 three versions. It's a gift in a length of 4.5 hours, a gift in a length of 6 hours and a gift in a length of almost 8 hours. What is that way? Just explore one of two tiny differences between the book as a paper edition: check under the "17 exciting stories".
Actually the biography, which my husband wrote for children is much exciting as an audiobook, as the music makes all the difference. Of course you can purchase the book with no music at all, but the version with 18 music pieces is somehow more attractive. 33 music pieces are spread over the whole narration time. Some are separating chapters, howver some are somewhere very silent belwo the text, absolutely in the background. Plus it's not about 33 pieces, it's about some twenty, some of them appear twice, very few show up threee times. If you spread them over 8 hours, you don't get the feeling, that actually this work wouzld be better off with more pieces.
An exciting development: This might be the perfect gift for adults, too. At least my husband and I were told such a thing, when several acquaintances and friends had read this book.l It is just "Bach Easy Going" and a real flaky introduction into the world of that composer. Alternately both little baroque cherubs talk about the "current events" (... if there is such a thing at all with little baroque cherubs) and Balthazar tells about the life of the master. This audiobook might be just the perfect gift, to "consume" it as a mom, a dad, a grandfather or grandmother on his or her way to work, in the next traffic jam and after that hand it down to their children and grandchildren. A greatly pedagogical request.
The first gift to listen to: It's the Bach biography without any music (... picture is this page earlier). The second is this biography with 19 times Bach's music. and the third gifts is the whole story and 33 times the music of the master.
That is really one of the  most exciting options, to meet Johann Sebastian Bach holistically. 
---
More and more websites inside the mission get more and more ready, we optimize the text and we care about the many spelling mistakes. Aside of that we are in the process of completing some 1,000 calendar pages until the end of this year. That is why we have a short interruption now, to introduce more gifts closer. However, that is what we want to continue in 2018 and we are looking forward to that.
Renate Bach
Renate Bach Publishing House "Bach 4 You" 
---
Renate Bach Publishing House ∗ Owner: Renate Bach ∗ Bildstrasse 25 ∗ D-74223 Flein ∗ Tel.: +49 7131 576761 ∗ info (at) bach4you.de