The 1985 Bach Beer Stein, the 2000 Bach Beer Stein, and Many "Modern", New Bach Beer Steins ... Plus, You Get Six Free Add-Ons*  

* The add-ons are available with the purchase of a historic Bach beer stein.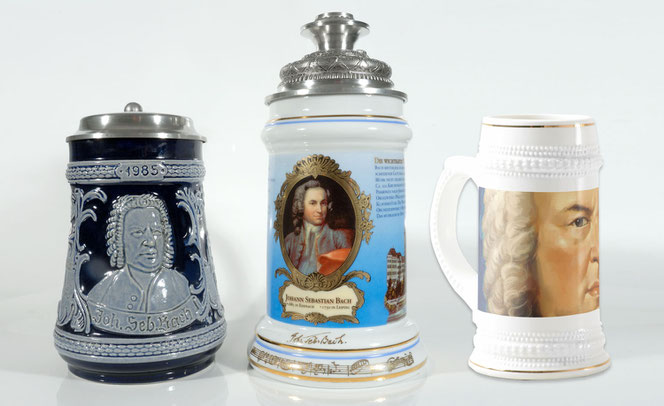 Three times Bach beer stein. The left Bach beer stein and the Bach beer stein in the middle are historic, but not yet antique. However, it's not easy to find one of the blue and gray ones. And it's almost impossible to find or to purchase the Bach beer stein in the middle. Finally, "Bach 4 You" offers countless new Bach beer steins with cool Bach designs.
---
More Than Bach Beer Steins
Bach mugs and Bach cups and Bach thermal drink containers and other similar items are also available, by the way, through the four online stores of Bach 4 You:  on Zazzle, two pictures further down.
Right, right, you have discovered it. We offer not only mugs, beer steins and the like on the theme of Bach, but also with the portraits of other composers. If you want to discover more offers on this topic, click on one of the buttons below.
---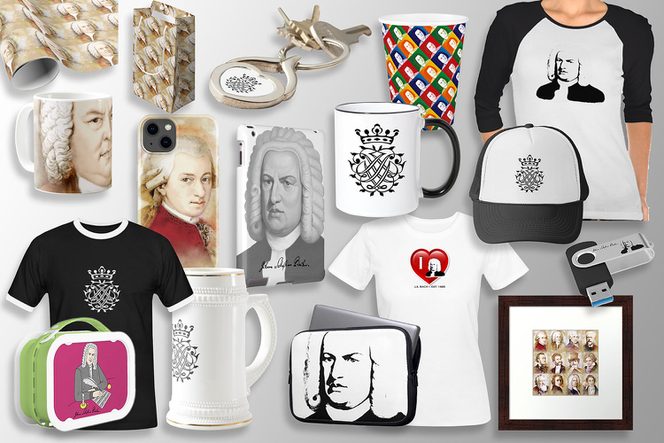 "Tons" of more music gifts. Have much fun there. Click here or on the buttons. However ... please come back.
---
You Get "More Bach Beer Stein" Nowhere: The Noblest Bach Beer Stein ... Honor to Whom Honor Belongs
Can you believe this: For a long five years, we didn't even know that such a noble Bach beer stein existed (... picture follows below). We are talking about the Bach Beer Stein of the Year 2000. Then, by chance, we found one on the internet and were happy that such a stein existed at all. We bought the one we found and gave it to my father-in-law. Actually expecting to find more if we just tried hard enough. Would we have given it away if we knew it would remain the only one we ever found and would find? We think ... yes, we would have.
For another three years, we found no more hint of such a Bach beer stein anywhere. Not in a picture, not at a flea market, not at one of our "Bach sources,". We believed that the one in my parents' house was the only such Bach beer stein in the world that we had ever held in our hands.
In 2018, we learned that there are two more, and of course it was okay for us to pay almost any price. As Bach fans, we just wanted to have them, at least offer them in our store, just in case a Bach fan and a Bach beer stein from 2000 would "meet" on our internet platform and in our store. Should this unique stein be sold out, you have the possibility to make a reservation for a preferred purchase. This is of course without obligation and free of charge.
Check out, with a click here, whether one is available.
The Bach beer stein from the year 2000. Each photo shows some surprises that you can not discover combined in just one photo. More close-ups can be found in the following pictures.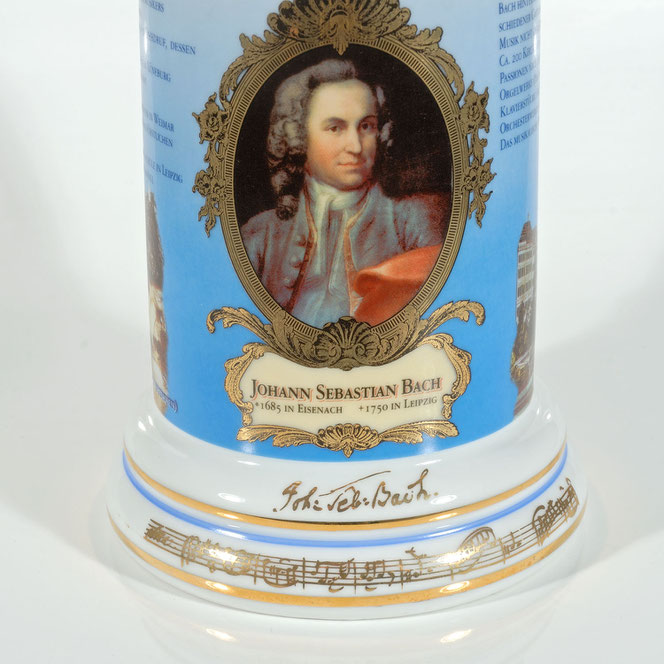 This painting shows the young Bach. This Bach picture is much less known than the famous Haußmann painting, which shows Bach at the age of 61. It is thought that this is how Bach might have looked during his time in Arnstadt when he was still a "rascal," as evidenced by the three incidents in Arnstadt: his extended vacation from four to twelve weeks, the incident with the "strange damsel," and the argument and almost a fight when Bach drew his épée and threatened one of his choir students. At the very bottom, you will discover one of the master's compositions in his handwriting. On a next level above is Johann Sebastian Bach's signature and below the portrait is his name and place of birth as well as his birthday and place of death plus date of death. Don't miss the perfect framing of the portrait and the blue and gold stripe, which is worth a look.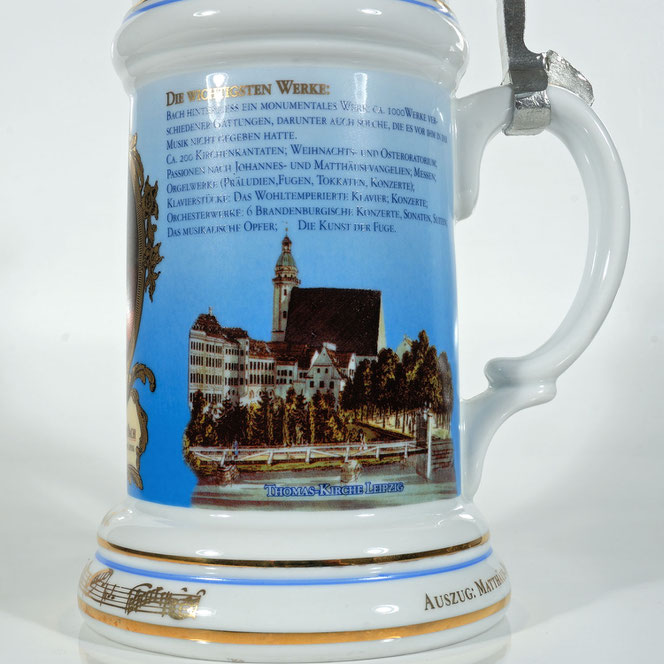 The Bach Beer Stein from 2000 shows – in the lower half – the Thomas Church from a very unusual angle. Even without trees, you could not discover the St. Thomas School and if it were a current picture, you would not be able to discover the New Bach Monument either. In the upper half of this picture, you can see a list of the most important and famous works of Johann Sebastian Bach.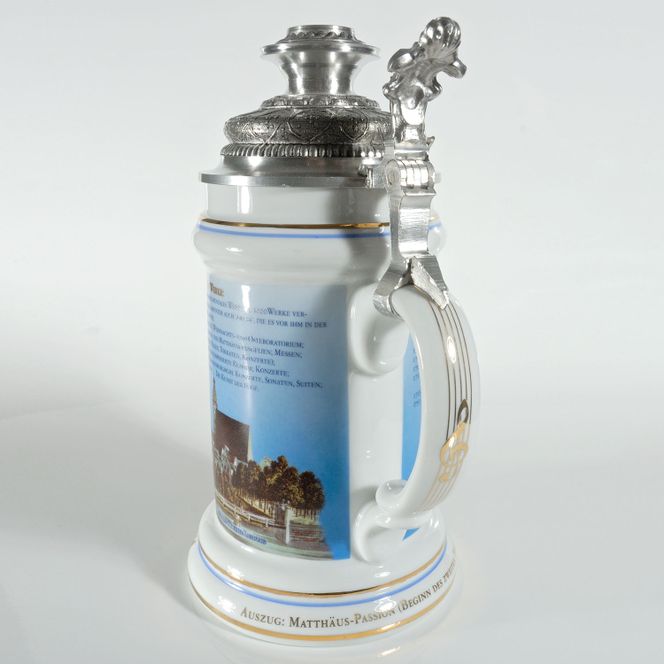 The tin lid of this Bach Beer Stein from 2000 is breathtaking in its ornamentation. It is a true artistic masterpiece and, to be frank, an artistic beauty compared to the Bach beer stein from 1985. At the very bottom, you will discover the music title accompanying the notes you see below the image of Bach. Look at the handle with the five upright gold stripes and the clef in gold. On the next picture, you will get an even better view.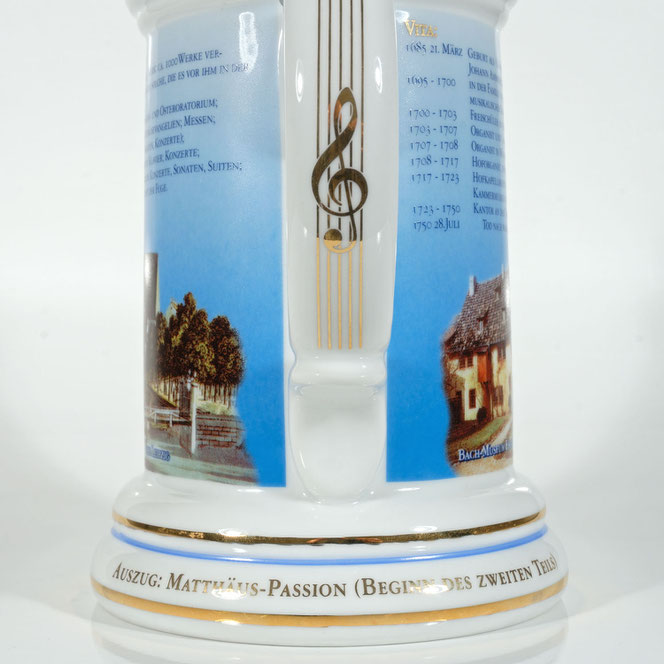 The Bach beer stein: In the upper half of the picture, you can see the key better. Don't worry, there is no horizontal "cut" in the lower part, it's just because this handle is round, and that's a bit of a problem. In the picture above, you can see that everything is fine there. At the very bottom, you can guess not only the name of the work, with the notes. Now – on the opposite side of the stein – but also that it's "The Beginning of Part Two." Wow. On the right side, the image of the Bach House appears, and you can enjoy it even better on the next picture.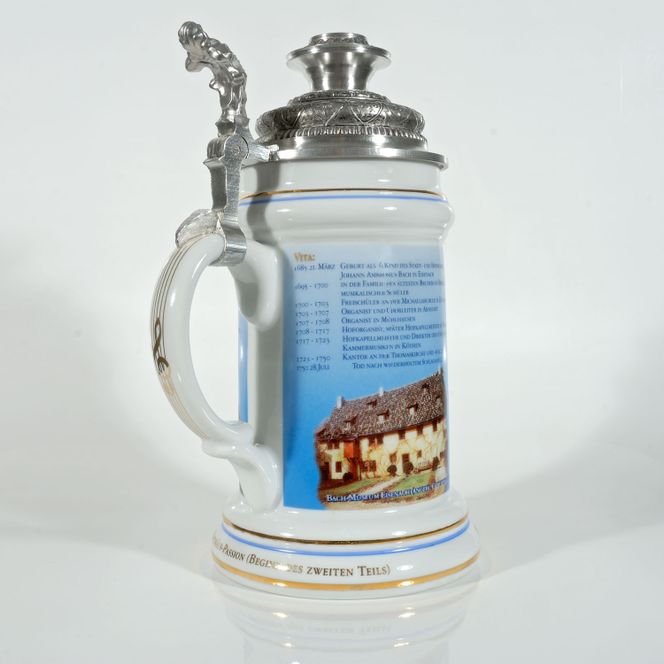 On the Bach beer stone from the year 2000 you can recognize the Bachhaus Eisenach in this motif. Did you know that the Bachhaus in Eisenach is not the birthplace of Johann Sebastian Bach? That was about 500 feet closer to the old town. Today, however, this house no longer exists and for many years, actually for 200 years, it was believed that today's Bachhaus was the birthplace of Johann Sebastian Bach.
---
The 2000 Bach Beer Stein and Its Value
Yes, it is really hard to find one of these treasures. A lot of time is needed, and then there is the "negotiation" to get the stein at a price that makes it possible to generate some money when we offer it to you. To realize our dream with our Johann Sebastian Bach Mission. What dream? You have never heard or read about such a Bach dream? Okay. Not this year and maybe not in the following years, but in the long run we want to open a new Bach Museum. Somewhere in Germany, in the United States of America – preferably in the Orlando area in our beloved Florida – or even in China, in Japan or in one of the kingdoms and sheikdoms in the Middle East: in a place where the future in tourism is growing at breathtaking speed. Of course, we already know what we're going to show, and we're sure it's going to be quite different from what the current Bach sites are offering. And for that, of course, we need money. Actually, not for the museum, but for measures that have to do with the visibility of the project websites and the project videos. But ... it's always the budget that "slows us down" there. Please judge the price – like the prices for the whole Bach stamp collection and the guided tour with us two Bachs through "The Land of the Bache" – as support for our Bach Mission. The price is € 299, including VAT, plus S&H costs. With the Bach Beer Stein from 2000 you will receive our "Bach Biography for Children" and adults (... as an audiobook, as an eBook and for your tablet), the quote Medley, the Bach Obituary (... both as a download), the small Mozart eraser and the small Beethoven eraser as a free addition. A final upgrade is the then furthermore the collection of Bach's 16,800 sheet music as download: It's the "Old Bach Gesamtausgabe" ... that's what these music sheets are called.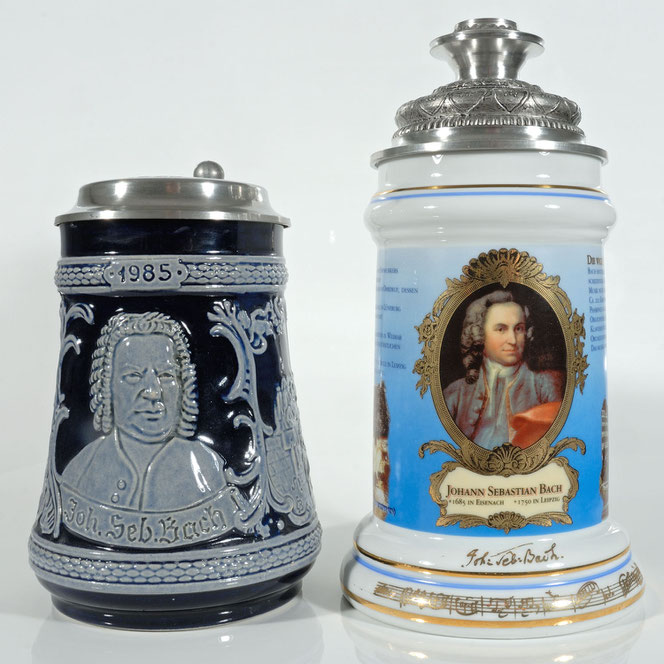 Both stars again: the Bach beer stein from the year 2000 and the Bach beer stein from the year 1985. Yes, we have problems, to say goodbye to our favorite beer stein, so it is allowed here again in the picture, although it's the beginning of the Bach beer stein from 1985 presentation.
---

Please support our Bach Mission, even if you purchase no music gift at all … learn more.
---
The Bach Beer Stein From 1985 ... It Is Lighter, It Is Not so High, It Is Affordable, There Are More of It Around
Wait a minute, what do we mean, there are more around? Well, we believe we might – maybe – find one Bach Beer Stein of the year 2000 every one or two years. It's different with the Bach beer stein from 1985. We might find five in a year, so the probability is high that there is one available, when you need one. It's different with the younger one.  ––
A different perspective than in the picture above: You see a part of the rear side and the handle comes into the picture. Yes, and you see a little bit more of the tin lid.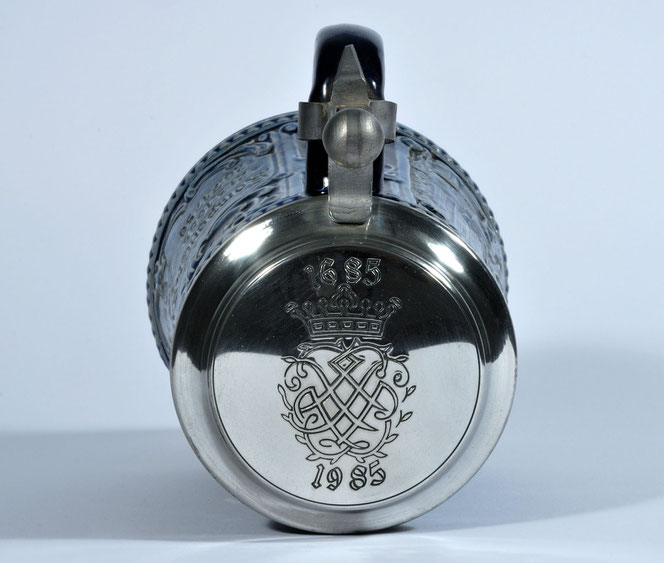 Here you can see the whole lid from the top. Don't worry, the top half of the lid is not black or damaged. It's just a problem with the light when I took the photos. The lid is shiny, only the engraving – set as patina – has its irregular black color, but this makes the engraving even more three-dimensional. You can practically no longer find such steins with lids that are not completely black.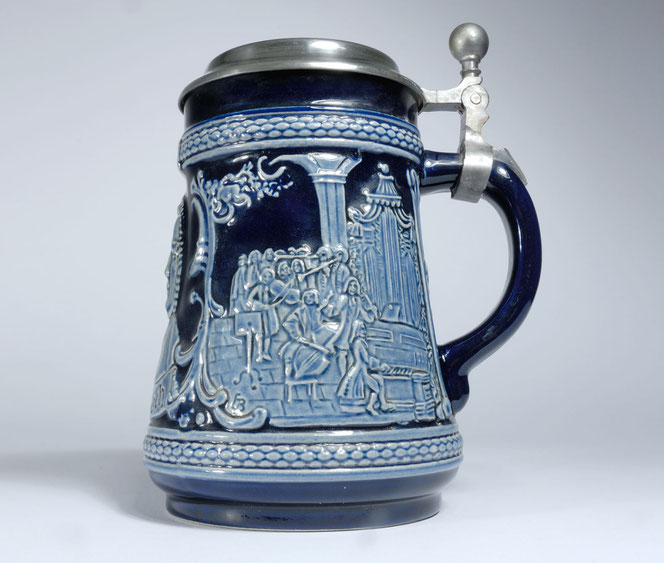 One side of the 1985 Bach Beer Stein shows an orchestra in front of a pipe organ and Bach sitting behind his keyboard. You can also see the cool attachment of the lid to the beer stein. The colors are – sort of – a dark blue and a grayish blue.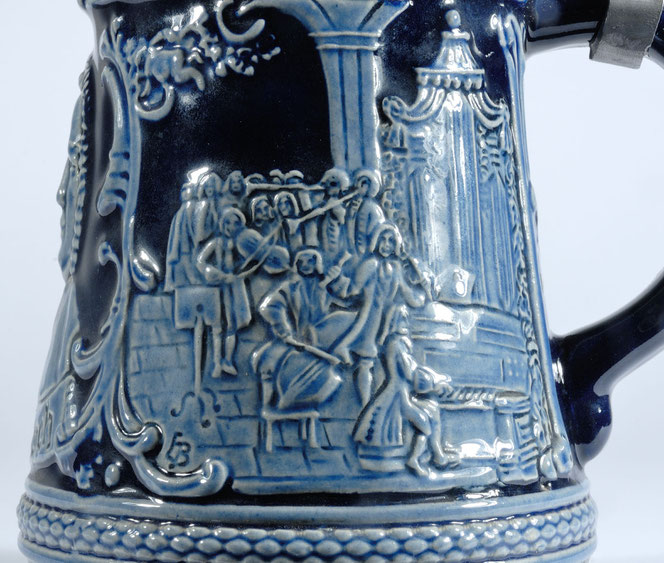 The motif from above ... even closer ... for even more fun and pleasure.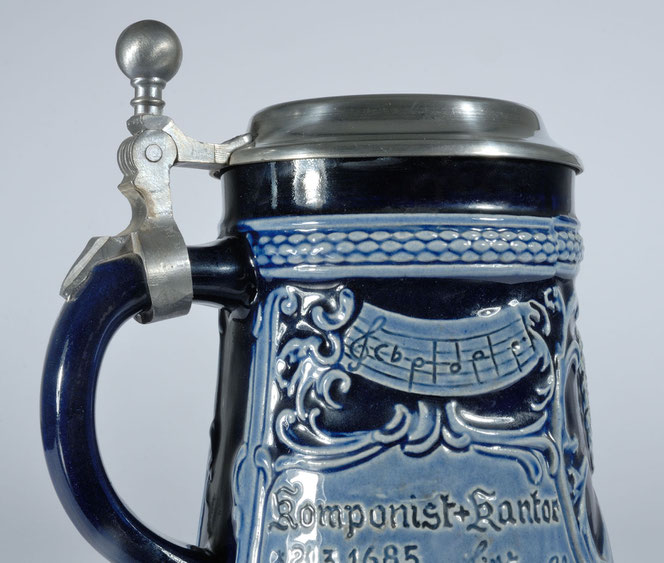 Clearly visible for the musicians and Bach lovers among you: The music line with the notes for B - A - C - H (... only in the German-speaking area in Europe). Below it, you will find the words "Composer and Cantor" and below that Bach's date of birth and his date of death, both of which you can discover even better in the next picture.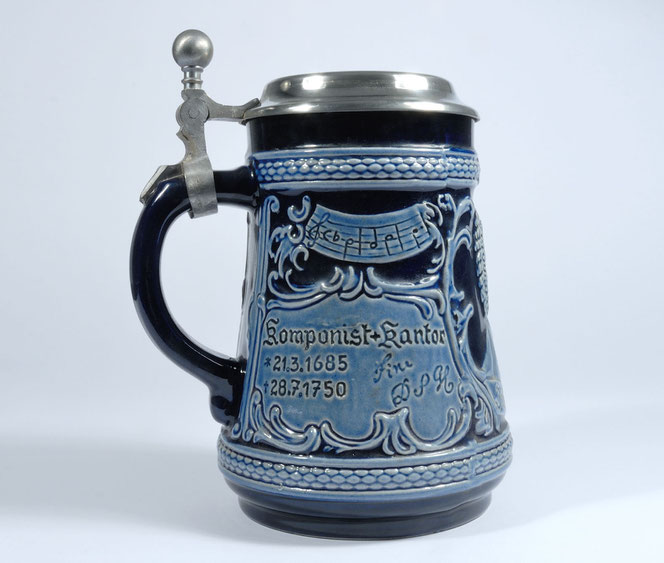 Finally, you see one of Bach's signatures under the word "cantor". Not like from others, there are many ( ! ) surviving signatures from Bach. This is a collection of about 20 signatures, because Bach used different names, titles and short forms.
---
The 1985 Bach Beer Stein and Its Price
The price for this Bach beer stein from 1985 – and thus almost antique, but definitely historical – is € 49.90 € including VAT, plus shipping (... check here, what's that in your currency). You get it with eight free add-ons. That is once the "Bach Biography for Children (... and also for adults)" as an audiobook and as an eBook and for your tablet. Then it's a download: "The Most Beautiful Quotes About Johann Sebastian Bach." Excitingly, this includes all the sheet music on Bach music, it's the "Old Bach Complete Edition" and of course you don't get the 50 bound paper volumes, but a PDF file. Finally, there is the Necrology, written in 1750 on the occasion of Bach's death: a listening pleasure. It is the first Bach biography, and it is enriched with his music. 

---
The Bach Beer Stein of Today ... Soon With 100+ Designs 
Are we fooling around? Yes and no. Of course, we don't expect anyone to "show up" and buy two of the brand-new Bach beer steins. However, since they are made to order, you can of course order more than one ... just in case ... it should be mentioned here.
What is the difference between the two Bach beer steins we first featured above and the "current" Bach beer steins of today, so to speak? Well, the two beauties above are only available used. In perfect condition, the Bach stein from 2000 even in its original box, the Bach beer stein from 1985 in addition with a certificate. However, the following Bach beer steins are a co-production with an internet company and "Bach 4 You", my Publishing House. This is not only for one design on one beer stein, but for many, many designs. And that on several different beer steins.
Already today there are some Bach beer steins in our "Bach 4 You" stores at "Zazzle" and at "CafePress". From next year on, there will be more and more.
How does it work? "Zazzle" and "CafePress" specialize in making gifts of all kinds. Hats, baseball caps, baby bibs, magnets, smartphone cases, calendars (.... calendars with a huge grid in the lower half ... compared to European-style designer wall calendars like "Bach 4 You", the Publishing House Store offers), umbrellas, mugs, coolers, T-shirts – especially T-shirts – and ... you knew it: beer steins, too, in fact. That's what these gift portals offer. Creative people and artists then contribute their artwork, their designs, their implemented ideas, which are finally printed on these 500 to 1,000 products.
After the product and our design are harmonized with each other, we offer it that way in our online stores. And if you now really like one of these combinations – for example the Bach portrait in a certain style and that on a very specific beer mug – then "Zazzle" or one of the other providers produces exactly one piece and delivers it directly to your door. You pay through their system (... for example with PayPal, but also otherwise) ... and we will unfortunately never hear from you, for privacy reasons. We will receive a message that ( ! )  "someone" (... in fact you) liked our design together with the beer mug proposal (... for example) and your choice was first produced and then also shipped to you. And we are happy about it.  
To get a first impression of the many possibilities, you will soon find about 50 Bach beer steins in the pictures below. We add more every week, every month.
And why so complicated? Why doesn't "Bach 4 You" in Germany offer such cool gifts itself? Quite simply. After all, "Bach 4 You" doesn't know what exactly you're looking for. What style of beer stein and what decor on it, you like: Would you rather have a white beer stein with a gold rim or one made of gray stone with a blue design rim on the top and bottom?  My Publisher would have to provide not dozens, but hundreds of items in stock. Gift portals, however, can make this happen because they work with many different manufacturers on their side. Due to the amount of orders a portal receives, conditions are agreed that make it possible to manufacture profitably from as little as one piece. And so everything works ... really perfect.
 So with our designs, a "blank" beer stein without a design becomes a ... Bach beer stein, right. And that's just for example. Finally ... you are now really spoiled for choice. Because we have made it our goal to offer the right one for every Bach fan on this earth who is interested in a Bach beer stein. This is true for very conservative Bach fans, for young ones, for hip ones, for older ones and for the very young ones, for kids, for fun lovers, for musicians and for friends of musicians. And for this reason, a little further down you will now find lots of examples that you can order in our store ... with Zazzle. You can also pay there – as mentioned – comfortably and in several variants, and look forward to your Bach beer stein after ordering. Now enjoy the many exciting designs we have come up with for you.
Above, it is a very "cautious" beginning of what will one day be a huge offer: The "modern" Bach beer stein at "Bach 4 You", a collection of Bach beer steins, composer beer steins and music beer steins.
---
Is There Also a Mozart Beer Stein, a Beethoven Beer Stein, and a Wagner Beer Stein ... That Is to Say, More Composers Beer Steins?
Sure ... there are Verdi beer steins, Liszt beer steins, Weber beer steins and more. And if there is a classical composer from whom we do not offer a stein? Then, yes then ... just send us a mail. And let us know exactly what you want. That is, you inform us which beer stein from which supplier in our stores you like best. And then of course we need to know which composer in which style finally comes closest to your wishes. We then design exactly this desired beer stein, then place this stein of your choice in the store of your choice, and you can buy it ... or not. There is no obligation for you to buy it if you don't like it.
The Beethoven beer stein, the Mozart beer stein, the Verdi beer stein ... and so on. Four of soon hundreds of beer steins. Discover all up-to-date ones in the four additional online stores of "Bach 4 You".
---

With one click on the buttons you get to the five online stores of "Bach 4 You". On the next page you will then proceed to the desired destination. And with a click here ... you will get there, too.
---
Bach Cups, Mozart Mugs, Beethoven Cups and Beethoven Mugs and More Cups and More Mugs With the Portraits of All the Classical Masters From Four Centuries
And that ... is far from all that "Bach 4 You" has to offer in this "discipline". Because there are not only cups and mugs, but other drinking vessels and there are other decorations: in fact, all kinds of music motifs, sayings, quotes, wisdom, funny stuff. Browse through one store after another.
There are countless cups and mugs for your coffee or tea. All with great designs on the theme of Bach and classical composers. There is certainly something for your grandpa, your music teacher or your choir director included.
---
Renate Bach Publishing "Bach 4 You" – Bildstrasse 25, 74223 Flein / Germany – Phone: +49 7131 576761 – info (at) bach4you.de