Bach Postage Stamps and Even More Bach Postage Stamps
Bach stamps, better some 150 Bach stamps. Bach postage stamps from all over the world, released in more than 50 years. Are we sort of crazy? € 8,000 for some 150 Bach postage stamps, which actually have no such value for "real" stamp collectors? Here is the answer. This offer is actually not for stamp collectors, but for Bach fans, who can and want to afford to support the goal of the two German Bachs' mission in the matter of Johann Sebastian Bach.
---
14 Bach stamp sheets are large enough to hang them as wall
decoration in the frame and with passe-partout in your home.
For this reason we offer them in our shop. Click here.
---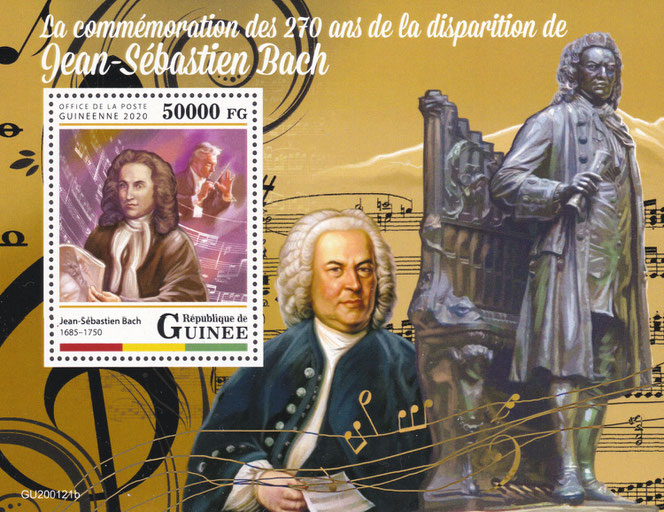 Bach stamps: A really small number of all of these beauties is selected to create this cool picture. We guess that's the only such selection on the planet.
---
Are you interested to discover all Bach stamps, Bach
stamp sheets and Bach cinderellas? Just click here.
---
Bach Stamps and the Mother of All Challenges
We assume you would never ever have guessed what the first real challenge was, when you try to collect all Bach stamps, that exist and were ever released. It was the challenge to figure out, which are those postage stamps. That is to say, where do you find a complete list of all existing Bach stamps?! If you are underway "in the matter of Bach" and you are interested in Bach beyond his music works and may be even beyond his biography and you check on many Bach websites on the internet for something exciting. And of course you google with the keyword "Bach stamps". Read more after the next pic ...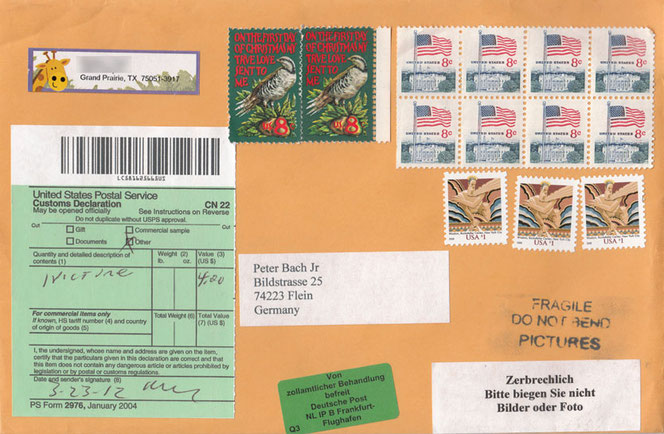 It's not only to find new Bach stamp beauties, next challenge is how to get them. Germany is way too small to find them all. However, the whole world, that is quite a different situation.
Aryeh Oron is an Israeli webmaster, musician and website artist, who – in our opinion – provides the only similar complete collection of Bach stamps. However, first his Bach stamps are based on a 5 to 10 % fraction, which we send him to publish them. Plus, he does not posses any physical Bach stamps. We do not only have them, but we scanned all of them in high quality to put them on our Bach stamps pages.
However, Aryeh Oron didn't have the complete collection of Johann Sebastian Bach stamps back then: We found more after some Bach stamp specialists told us about. And there are Bach stamps, which – in almost no detail – point to the fact that they are Bach stamps. Check yourself with the one below ...
---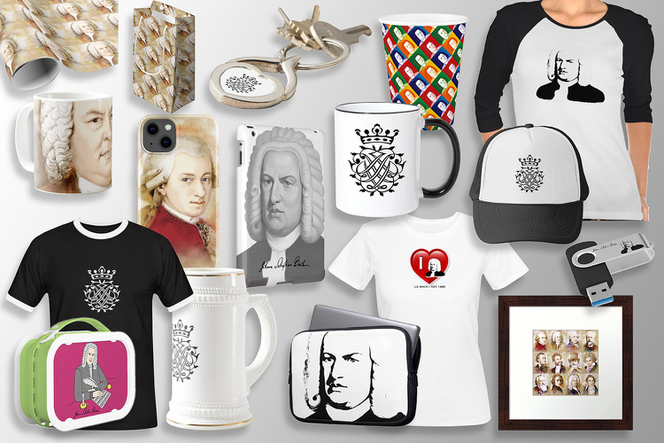 Did you know, you can even support our Bach mission, if you purchase any item from any buyer on any of the shops above and that is to say, even no music gift? Please click on any button, to learn more.
---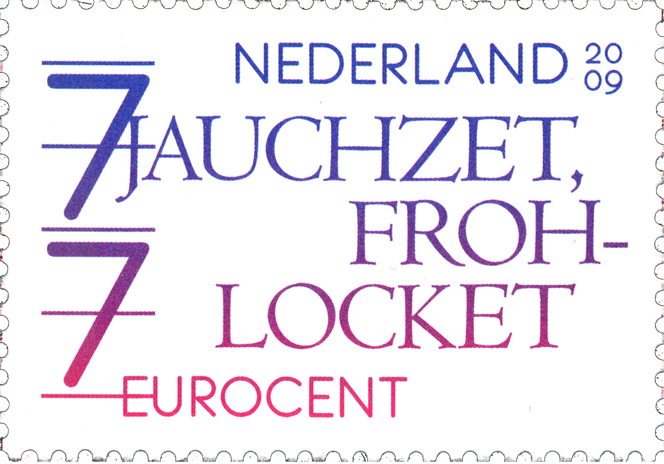 Would you have discovered, that this one is a Bach postage stamp? Find out why with a click here.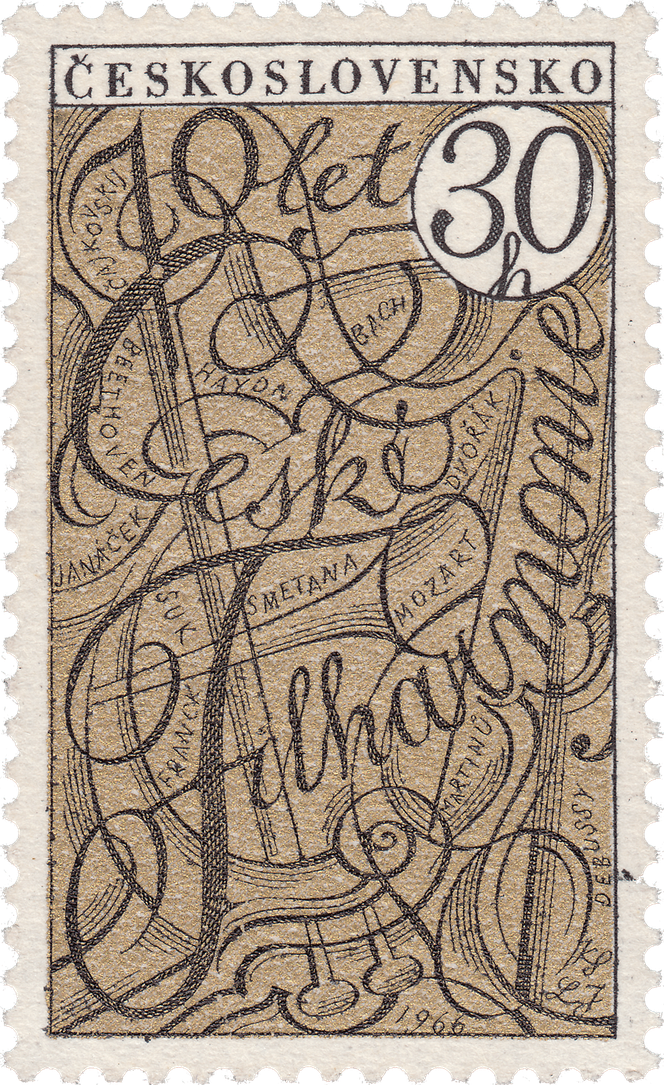 On this one, Bach is mentioned so tiny in the original size, that – as a Bach stamps collector beginner – you really would have had problems to identify this one.
So actually, it was a long cooperation between me and my husband, Aryeh Oron and more Bach stamp connoisseurs in the whole world to even get a complete list of all Bach stamps. However, finally – honor to honor belongs – there is Paul Gommon, a Bach stamp collector, a musician and a music scientist in Leipzig, who published a little booklet about all Bach stamps, that existed at the time of the publishing of his read. Only with his expertise, Peter's complete collection of Bach postage stamps could be accomplished. Of course, we will check with a special group of music stamps collectors each month – they list the monthly release of music stamps worldwide – that we remain the place with the collection of the most Bach stamps on the planet. After that we try to manage to purchase the latest beauty with many "Bach stamp sources".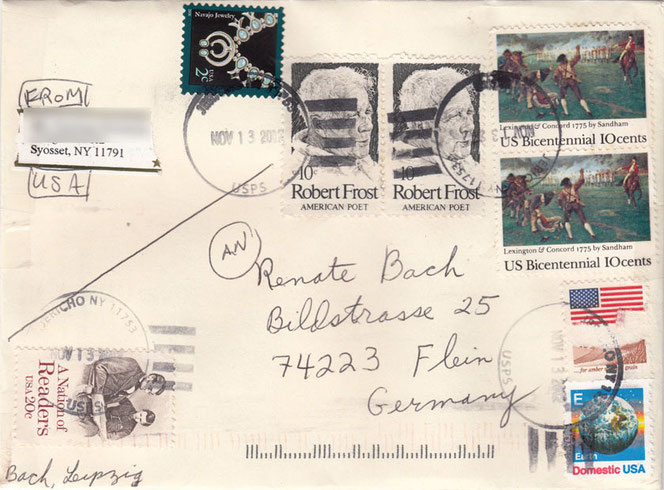 Bach postage stamps: First you find out, whether there is a new one released, next is, you find out where this Bach stamp is offered. After that you order and pay. Then you wait. Up to 2 months. Finally, this exotic envelope – not with Bach stamps on it – with Bach stamps in it, is delivered to your front door.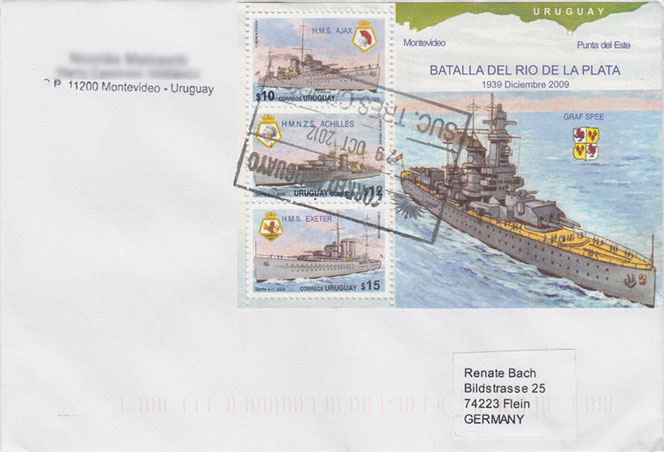 The green label means, customs okayed, that you get your Johann Sebastian Bach stamps.
---
Is the Bach Stamps Complete Collection Worth € 8.000?
Why buy Bach stamps for whopping € 8.000? This question is still unanswered. Well, if you put together  the sales prices for all purchases, which you find at a stamp store here and a flea market there, you get to the result, that € 8.000 is way too much, if you add up the value of all 150 beauties (... yes you are right, some are ugly, but not that many). That is how stamp collectors decide about the value of a stamp collection. However, we are no stamp collectors and the "most complete Bach postage stamp collection" will never be discovered by a stamp collector and the offer is not meant to be an option for general stamp collectors. Excuse me, not for stamp collectors? Nope, this collection of beauties is for Bach lovers and the uniqueness has its price tag. No ... I am kidding. I don't want to be arrogant.  Go on reading to discover what makes these Bach stamps so incredible expensive ...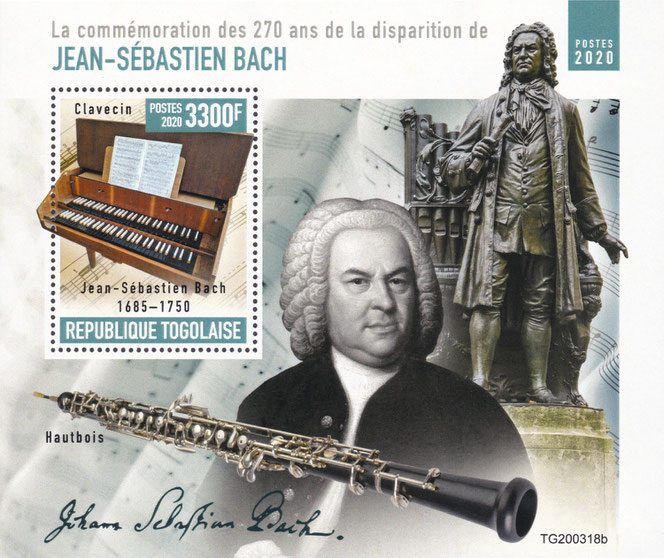 Bach stamps and more Bach stamps: one of the exotic beauties among 150. Roughly 150.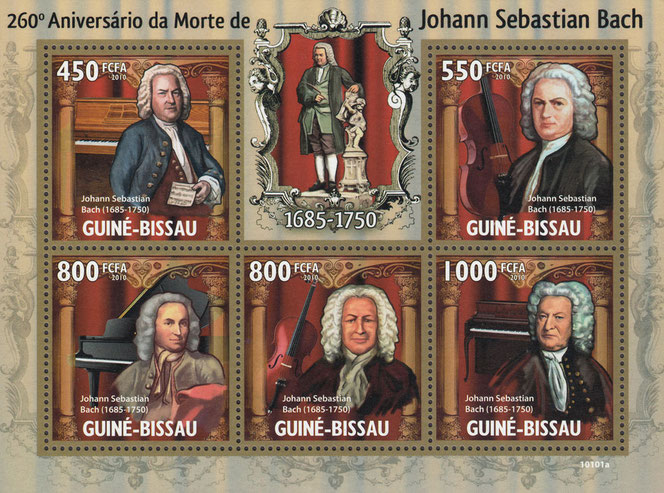 What a Bach postage stamps sheet. 
Okay, you read so much on this page, that you deserve an answer, why these Bach postage stamp collection comes which such a hefty price tag. First, there is the time, to find them all and to order them all. It's not like with other collections, where you either don't have the goal to get them all, or if you order "what you see" somewhere. It's first the many hours and weeks and months to check, what the complete collection is about. And then to go after them. You learn about one more Bach stamp and after that, you research and research ... until you found somebody who is willing to sell it. For instance the Bach stamp, three pics earlier: A Bach fan pointed to this Bach stamp. It's from CESCOSLOVENSKO. Next what you know is, the year of the release. So now, you are in the field of collectors of that country. You contact stamp collectors societies and you are "handed from one person to the next person". And finally you hold it in your hand after opening the mailed envelope. The next Johann Sebastian Bach postage stamp.
Okay, it's not the value of the Bach stamp, but the time that it takes to get them. However, € 8,000!? Yes. Like the "Mona Lisa" is not worth the paint and the screen and the time, that Leonardo needed. Yes, you can't compare the Johann Sebastian Bach postage stamps with the Mona Lisa, however you can just a little. It's just worth what somebody is willing to pay for this treasure. That is why it needs a Bach fan instead of a stamp collector, to value this offer.
Finally, there is one more reason, why we want these € 8.000 for the whole collection. Our dream was, is and will be – for the oncoming years, until our Bach mission websites are really widespread, because musicians, teachers and children discover them and tell about that offer – to install a next Bach museum somewhere in the world. In Germany maybe ... or in the USA, in China, in Japan or in the Middle East in one of these new touristic hot spot Kingdoms and Sheikdoms. Even if that is a far, really far time away, your money would boost our Johann Sebastian Bach mission, as we – not like all the Bach institutions in Eisenach, Leipzig, Arnstadt and Wechmar – get public money from German taxpayers and entrance fees from international visitors. 
Finally, there is one more challenge. Currently, we are proud to be the only folks on Earth who have these Bach postage stamps physically. Nobody else in the Universe does. And if you buy this collection, we are left with only a few Bach stamps, which we still have, because we bought two or three back then. With your purchase we will  again try – very hard – to find all of them a second time, and we don't know whether we succeed with that. Again we have to research, to write letters, to send mails, to purchase, to handle the incoming beauties, to pay – for the Bach stamps and the shipping and handling – and to organize the next whole collection. 
---
Can You Be Sure to Have the Most Complete Bach Postage Stamps Collection on Earth and in the Universe?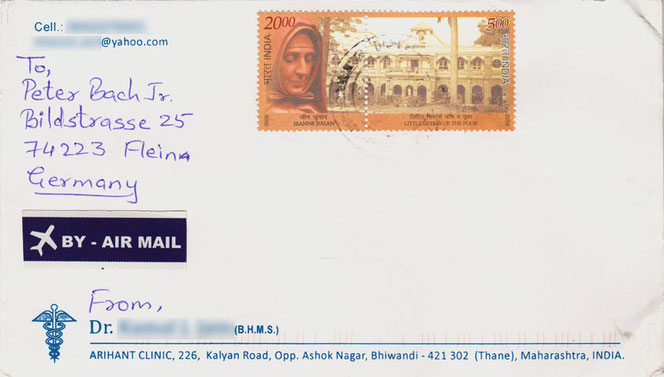 Do we really want to experience this whole procedure again, just to create a second complete Johann Sebastian Bach postage stamp collection? Sure, we would.
---

Please support our Bach mission (... just a final small reminder) … learn more.
---
Sure you can (... regarding the headline question of this paragraph). If there is somebody who states he or she has a Bach postage stamp, that we didn't display, and he or she proves which one that is, we will desperately hunt this so hidden object. We will do what we can do, to locate it, to get it and to add it to our – then again – most complete Johann Sebastian Bach stamp collection.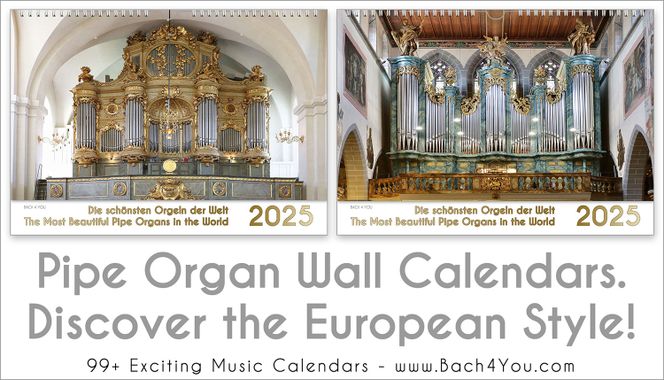 Music calendars and pipe organ calendars. To the shop. 
---
Renate Bach Publishing "Bach 4 You" – Bildstrasse 25, 74223 Flein / Germany – Phone: +49 7131 576761 – info (at) bach4you.de