Gifts for Musicians, 1,000+ Gifts for Musicians ... Welcome to My Shops on Zazzle, Cafepress, Spreadshirt and Redbubble
Individual, very special gifts for musicians when it comes to Johann Sebastian Bach: You know where to find them? Right: in the shop at "Bach 4 You", on this website ... and with one click here ... one gift for musicians after another ... in the matter of Bach. But ... I also offer you many, many more musician gifts more. And not only on the subject of the most famous composer of all time. Many shops on the Internet also offer other Bach gifts, but also composer gifts and of course ... Gifts for musicians. 
Some examples? Coffee cups and teacups, thermo mugs, modern beer mugs, T-shirts, baby bibs, smartphone cases, suitcases, key rings, magnets, party hats, sneakers, bags, USB sticks, baseball caps ... hundreds of gifts for musicians.
---
Gifts for Musicians: You Know the Music Calendars
You geht to all 99 music calendars here!
---
Gifts for Musicians: Do You Know Those Related to the Subject J.S: Bach?
Zu allen Bach-Geschenken geht es hier!
---
Gifts for Musicians: Do You Know my Bach Gifts on Zazzle and Co.?
So many gifts for musicians ... so many Bach designs, composers designs and music designs.

My favorite for T-shirts and Sweates is the portal Spreadshirt. Beyond that the marekt place Zazzle is my first choice, when it comes to gifts for musicians.
---
Gifts for Musicians and More Gifts for Musicians: a Common Trip on the Internet, However, Only if You Have a lot of Time to Read
Gifts for musicians. Have you googled "gifts for musicians"? Or "gift ideas for musicians"? Gifts for musicians can actually be found on many portals on the Internet. But what is usually missing there? Correct: There is no large selection of calendars among these gifts for musicians. Actually I didn't find any music calendar as a gift for musicians on three online-shops. None on the British portal "Gifts for Musicians", none on "The Musiciansfriend" and I could find none in the "gifts for the classical musicians" department on the great US website Orchestra Excerps. However, I didn't say there are no music calendars, which you can make a gift for musicians ... it just, I didn't find a single one (Status 2019)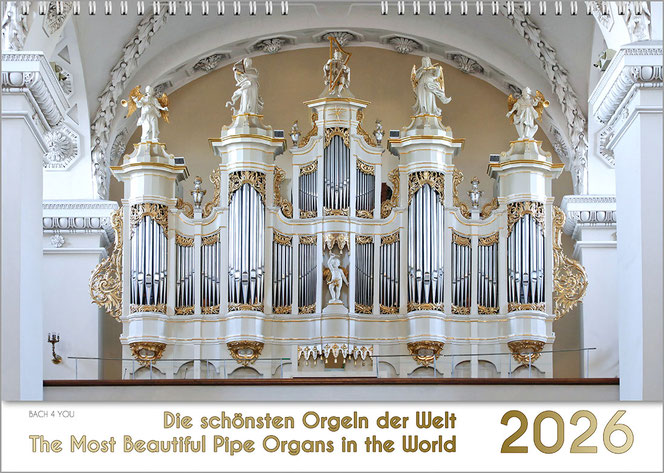 A gift for musicians: the current pipe organ calendar and the pipe organ calendars of the previous years. These pipe organ calendars are the stars among the "Bach 4 You" offers, which excite not only Bach fans.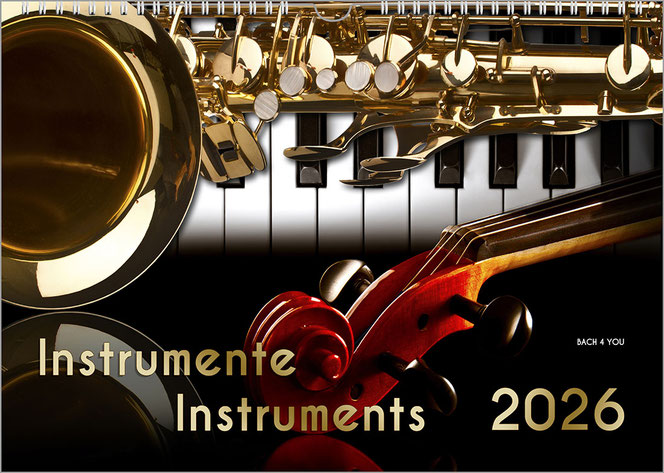 The musical instrument calendar, one of several. It is also an affordable gifts for musicians. And probably the most affordable music calendar on the market. You can get it as low as from € 11,90 (... do you need a currency converter?). And that is in A4 (... check here for the measurements in inch and centimeters), for the whole next year, already in May. In addition to the € 11,90 please add S&H, the  tax is included. With a click here you are in the shop immediately at the correct place, just if you decided to buy it right away. There you can also discover the 12 individual calendar sheets.
---
Are Music Calendars "Only" Great Gifts for Musicians for Christmas? Or "Only" Gifts, Which You Can Give as a Gift Starting in Late Fall?
No and the idea isn't original either: At "Bach 4 You" you can buy a music calendar long before the actual high calendar season in November / December. So the joy can begin on the birthday and there is no waiting time until the end of the year. Exactly 99 different music calendars offers the small and young publishing house "Bach 4 You" in the meantime. And they are all already printed in May, which means a whole seven months before you hang it on your wall. As a gift for musicians. As a gift for musicians from music fans. And as gift for musician for music enthusiasts. 
Hey US citizens and maybe, these 50:50 calendars are common in more countries in the world: Please take the time and find out more about the difference between calendars, how they are common in Germany and calendars, how they are common in the United States.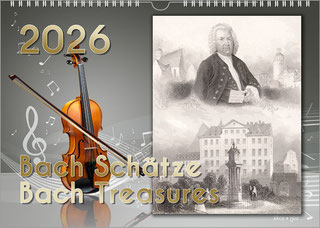 At "Bach 4 You" the calendar on the left is a Bach calendar, (... and actually) no music calendar. But without question it is of course also a gift for musicians. 
This Bach calendar on the left belongs to the affordable musician gifts, because it is already available in DIN A4 for € 11.90 plus S&H, including VAT. 
The 32 other Bach calendars in the sizes A4, A3 and A2 are a little more expensive. Nevertheless, all 99 calendars can easily keep up with the costs for other gifts for musicians. And a calendar spreads fun on every single day of the year. 365 days long. Guaranteed! 
---
Renate Bach Publishing "Bach 4 You" – Bildstrasse 25, 74223 Flein / Germany – Phone: +49 7131 576761 – info (at) bach4you.de