What Is a Poster Style Calendar = European Style Calendar? What Is the Difference Vs. 50 : 50 Calendars?
99 Music calendars with no grid ... and soon 66 additional music calendars with a grid. First read more below ... or if you don't have the time, click on one of the buttons: The "Bach 4 You" button brings you to the full format calendars, which I call "European style" or "poster style". The Zazzle button above brings you to the music calendars, pipe organ calendars, Bach calendars and composers calendars like you know this style in the US.
---
Two Calendar Styles ... and a Story ... If You Have the Time
I would like to begin with a story when we found new relatives thanks to our Bach genealogy research. We met two really nice folks from the United States just two weeks before they visited Germany. We met them, and today we are friends, beyond family. When we introduced Michele to our calendar idea, she came up with the question, whether this market isn't fading as more and more people today use electronic calendars. As she was definitely right on the one hand, I was somewhat disappointed first but thought about that challenge on the other hand.  
I found out, that she thought, we would offer calendars, like you find them in the malls and bookstores in the United States of America, when the calendar season is beginning each year. There you will almost exclusively find these 50:50 calendars, shown in the next pic. 
What are you now interested in today? After you learned about the two options? Traditional style, that is to say with 50 % grid ... or full picture European style?  95 % of all wall calendars in Germany are European style. 95 % of US calendars are grid style. Please decide on one of two options with a click on the pic, text or logo below. Or check both out and come back after that.
---
2 x 2 More Examples for You ... European Style and 50 : 50 Style ... Explore the Difference
Two June calendar pages of several composers wall calendars. First is the calendar page, how you know it. There is space to fill in appointments, dates, errands and chores. The next motive from the top to the bottom (European style = poster style) means: no space for such notes  just one large pic and the timetable as a decoration part: It's a just for decoration like a share or an art work.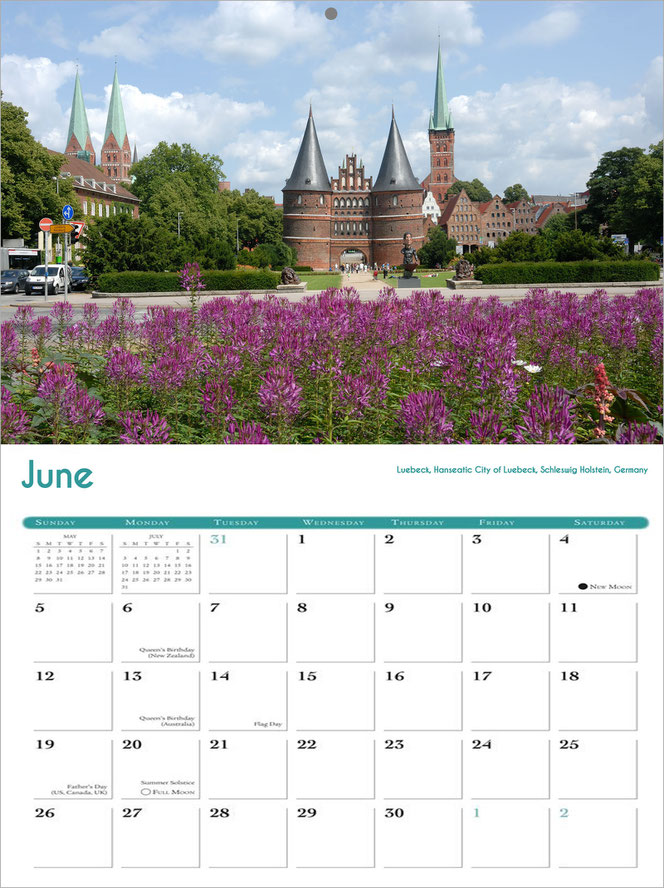 Again. This is what we call a 50:50 calendar. The upper 50 % is a nice decoration; the lower 50 % is where you put in birthdays, vacation and doctor's appointments. You would never ever place such a calendar in your living room, nor in your hall, dining area or music room.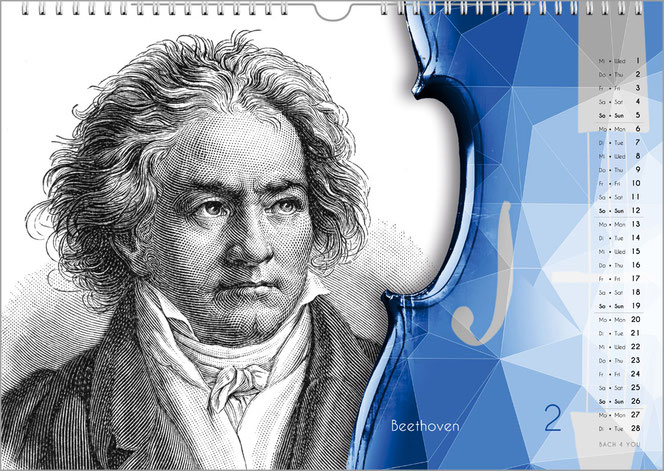 With a European style calendar, you surely would decorate your music room, your dining area or your hallway. Of course ... that goes without saying ... not every design fits every style of your location. This page of the composers calendar above wouldn't fit in a very traditional equipped home ...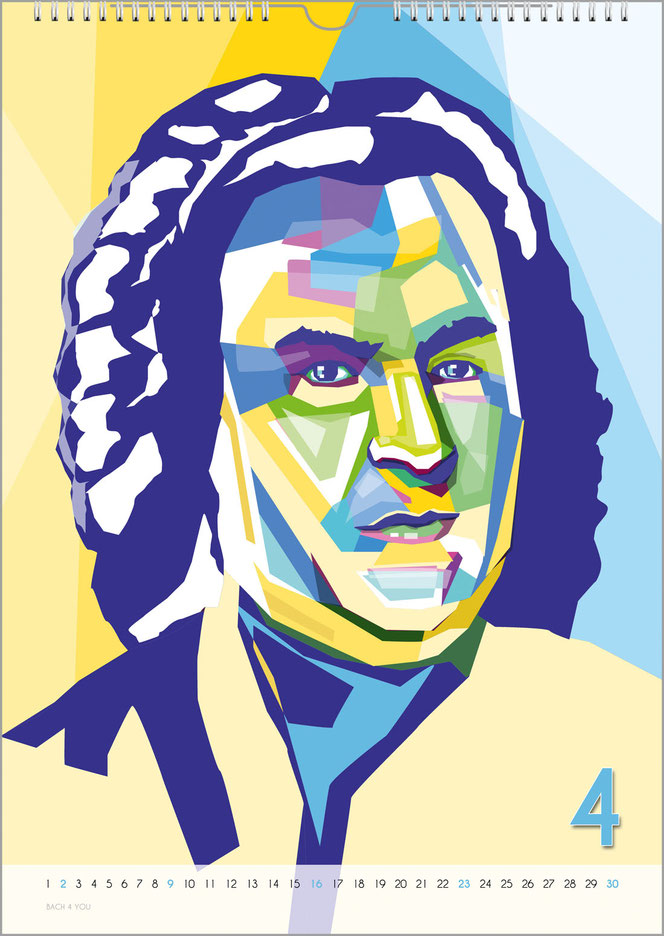 ... this portrait would fit into a super modern designed home ...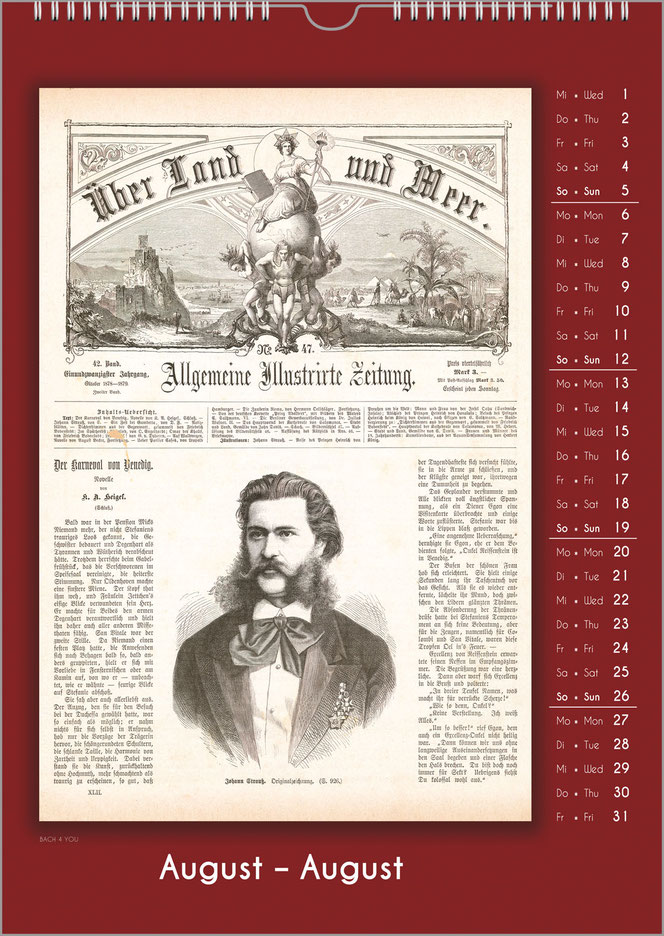 ... and this would fit in a very traditional home's living room, dining room or music room.
---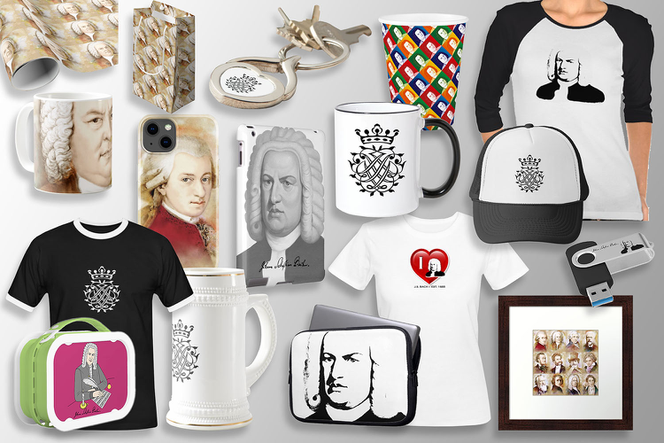 Please click on any button and find out, who you could help to support our Bach mission.
---
Our Calendars in the Shop "Bach 4 You" Are Decoration, Just No Planners. If You Prefer a Wall Calendar, However, With A Grid, There Is an Option
Back to the Bach family story. I was very disappointed about that fact – not about the hint – in the first 2 or 3 hours on our trip back from the west coast of Florida back to the east coast of Florida. However, right before entering Tampa Bay I realized the blessing from that hint. Everybody in the USA, who would be interested in our music calendars, would have believed we offer 50:50 calendars. If I would not explain the difference and tell, we are not. 
So actually these 50:50 calendars are no real decoration. They are nice in the kitchen and ... I don't know where else. May be in your walk in closet? Nor really.
Calendars from "Bach 4 You" are like a picture on the wall. 95 % is design and the calendar on the calendar (... sounds funny, that is to say the timetable!) is design. It is a decoration. It is a decoration, where visitors, friends, neighbors and buddies look, get closer and are curious, what's on the monthly pages in the following months. 
---
Caution: In the Mall and in Our Shop ... Both Title Pages in Both Styles Look the Same!
That is what it's all about: If you see our calendars, you might assume, the monthly pages would be 50:50. However, they are not!  On the left is, what a calendar title in the US looks like, on the right it's what a calendar in Germany looks like: no difference under the film.
---
Check the Difference Again, Please!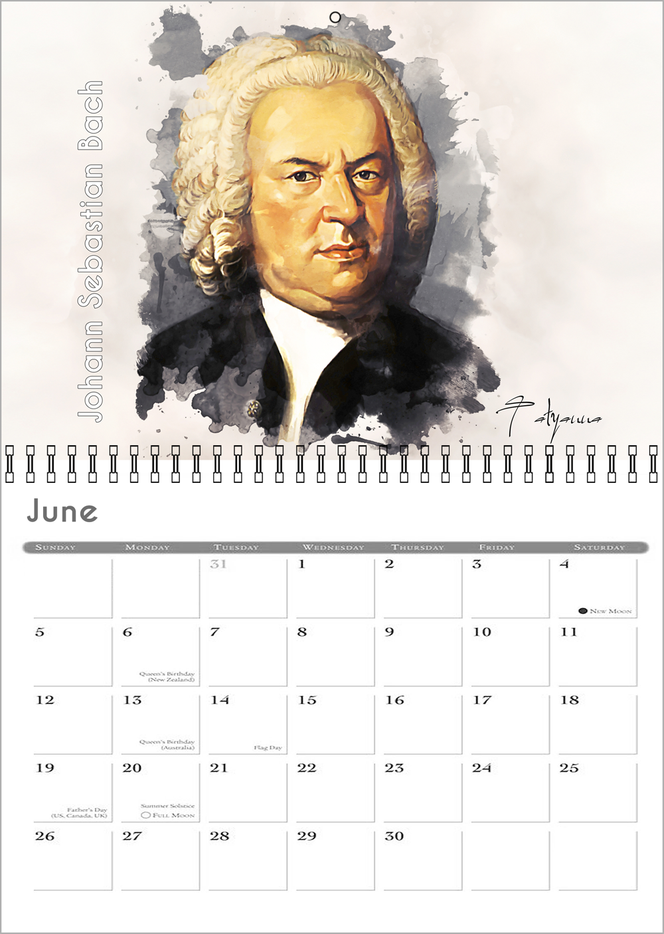 Can you imagine such a calendar behind your decorative piano in the living room? Yes you can. But it's awful. Forget the imagination and hop to the next pic.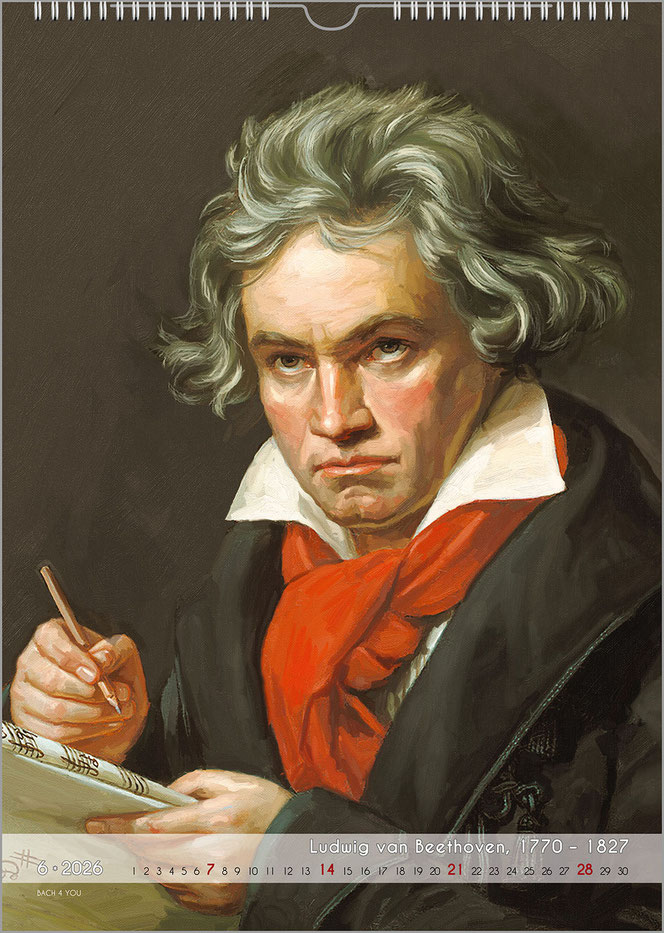 Same size as the pic above! Can you imagine such a calendar behind your black piano on a white wall? Yes, you can. It's nice in a small size and it's impressing in the 16.5 inches by 23.4 inches size. In the middle size it's impressing, too.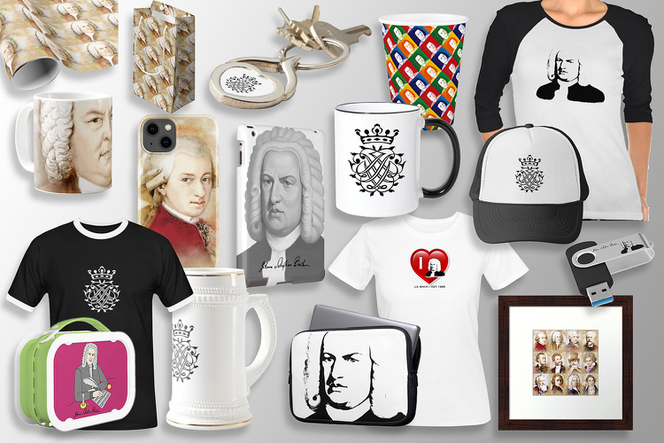 Music gifts, Bach gifts, 5 Bach shops. Our recommendation: You will find European style music calendars at "Bach 4 You", US style calendars at Zazzle … learn more.
---
Renate Bach Publishing "Bach 4 You" – Bildstrasse 25, 74223 Flein / Germany – Phone: +49 7131 576761 – info (at) bach4you.de