5 Bach Shops ... Here It Is One Specific Shop Per Click ... Find 1,000+ Music Gifts and 1,000+ Gifts for Musicians
Please support our Bach mission without spending a cent for us. Read more below the next
two picture rows. Discover than 100,000 of music gifts, way beyond our missions offer!
Here, every button works separately. Our recommendation? US-Style calendars via Zazzle, T-Shirts via Spreadshirt. European Style wall calendars via "Bach 4 You".
Yesssss ... we do have Bach calendars and composers calendars  w i t h   a grid, too. 2 of 4 shops do not offer T-Shirts. Zazzle and Spreadshirt do!
---
Why this Junction Page?
To inform you – only once, short and to the point – about one important request.
---
Our JSB Mission's Request 
Not only in the 4 shops of "Bach 4 You" on the internet the publishing house and our mission gets a small commission, but also, if you buy in the shops of other sellers in these shops.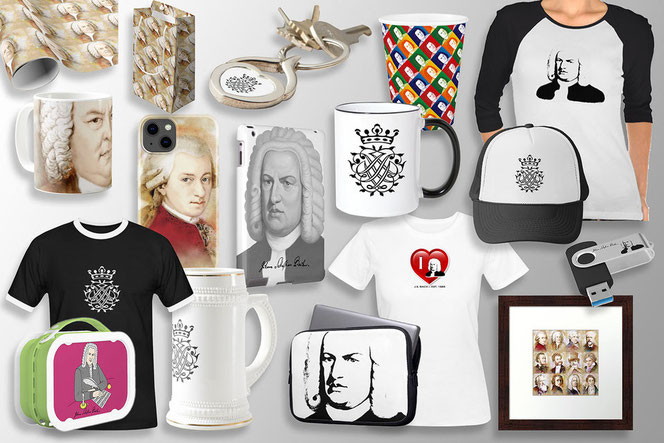 Please go on reading 10 seconds more.
---
What Does that Mean? 
If you decide to buy on Zazzle and Co. again – later or tomorrow or the day after tomorrow –please do so via this page, it won't be more expensive for you, but it will give us a big helping hand in matters concerning Johann Sebastian Bach. The system recognizes that you come from this page in the Bach mission. 
---
So, How Do You Remember Us in 10 Months? 
 Google "Shop + Bach". There "Bach 4 You" is among the TOP 3 results, then it's section 3. If you land on the shop page, the "Zazzle & Co." page is a little down in the navigation.
---
Plus, There Are Also Peter's Shops and More of My Shops ... Below
Sometimes, Peter and I can not decide, whose creative idea and result is art or trash. That is where his shops come in. These shops are still closed until 2020.
---
More Cool Shops when It Comes to Music Gifts from the Bachs 
You remember? We would like to inspire people all over the world with our mission and inspire them. That's why we are represented on so many platforms and that's why we are present even when there are only 10 or 20 different musical gifts more than on the other gift portals. And that's why you're spoilt for choice here again.
Still under construction in winter 2019/2020. 
---
Not One Bach Shop, but Almost 10 Bach Shops ... that Is Part of the Common Bach Mission of Renate and Peter Bach, Jr.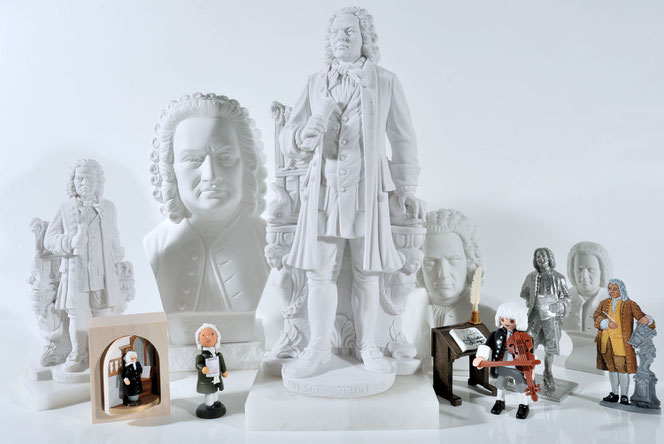 The Bach shop "Bach 4 You" is the specialist in the subject of "Bach figure".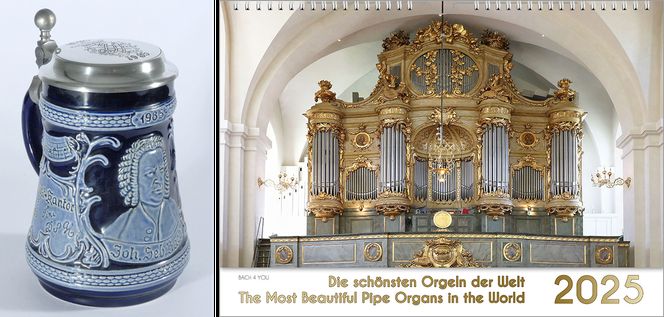 You get the Bach beer stein in no gift publishing house and in no Bach shop in so many variants.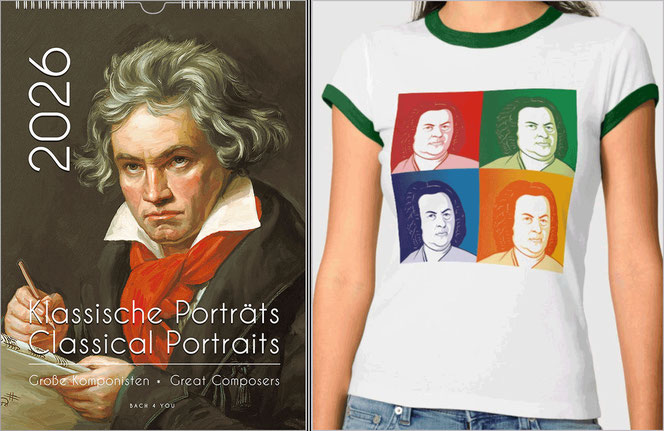 The music gift composers calendar and the music gift Bach T-shirt: 2 major sections in the Bach shop "Bach 4 You" and in the online Bach shops of Renate Bach in Southern Germany.
---
Renate Bach Publishing House ∗ Owner: Renate Bach ∗ Bildstrasse 25 ∗ D-74223 Flein ∗ Tel.: +49 7131 576761 ∗ info (at) bach4you.de