The Little Bach Figure, the Tiny Bach Figure, the Ore Mountains Bach Figure, the Bach Bust, the Bach Tin Figure and the Bach Statue, Respectively the Bach Monument
The Bach figure:  You want to purchase one,
you don't want to be entertained? Please click
on the button and decide by the pics.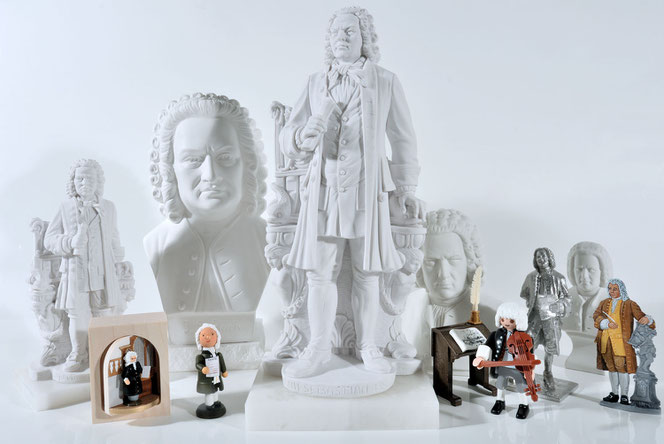 The Bach figure: Hey, what a get-together in the picture above! Can you imagine that this photo was taken "by chance"? In summer 2019 the time had finally come when "Bach 4 You" sorted the last articles into the "shelves" of the shop in the publishing house and of course they were also photographed individually before that. And when the Bach statue stood so lonely in the middle of the picture and "so much space" was left and right, one Bach figure after the other joined the group. Until the photographer – my husband Peter – finally collected all the Bach figures from the whole house. And here ... they are all now.
---
The Bach Figure: Every Figure Has Its Story (... for Us)
It's not just "... what can we sell, what is Bach, to make money?" No, we don't have different philosophies, when it comes to Johann Sebastian Bach, my husband Peter and I. It always has to be first class, whether we report about or whether we offer it for you to purchase a Bach article. And that is also true for the Bach figure. Bottom line: It needed some 5 years from the discovery of the first Bach bust until we learned, that there is a little Bach figure, handmade in the Ore Mountains, the Erzgebirge in Germany, better Eastern Germany.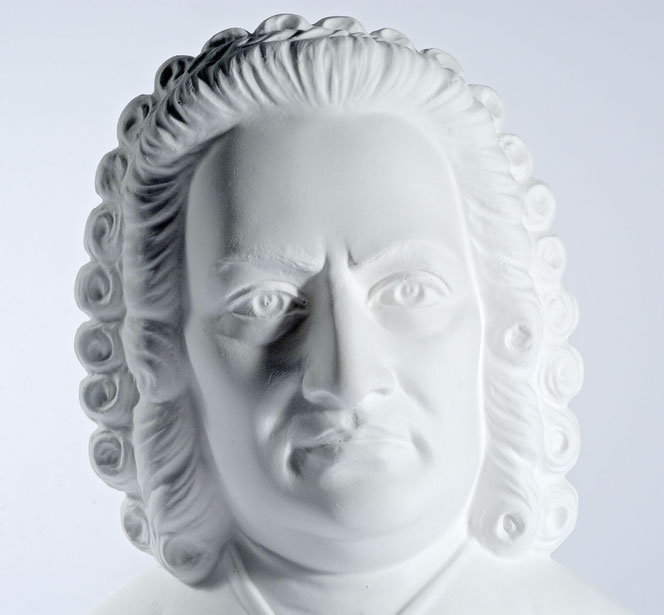 Did you know that there are "truckloads" of Bach busts out there. Different sizes, different prizes, from impressing facial expression until ugly and trashy. We had never estimated such a thing, as we were happy, to find some Bach busts at all. Today we know better and we want to tell you about. Plus, after you found the most impressing artworks in the desired sizes, it's all about photgraphy ... in particluar when you are a professional photographer ... which my husband Peter is. And Peter loves to "paly around" with light. However, as we didn't know upfront, which photo would fit better to which surrounding, Peter photographed all Bach busts and all Bach figures once with a neutral background, that is to say white and light grey and a second time in the middle of our living room with an open kitchen area.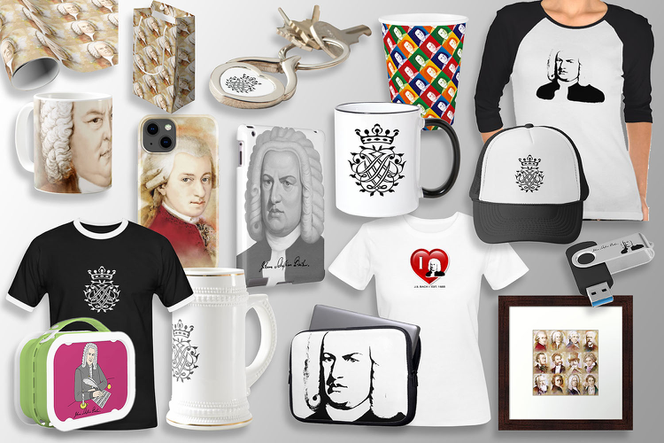 Please learn more, how you could support our Bach mission, even if you buy no music gifts. However, on the shops above there are tens of thousands of music gifts. Have fun. By the way: It is also possible to click here to get there.
---
Honor, to Whom Honor Belongs: The Bach Tin Figure 
Peter Bach, Sr. was an enthusiastic tin figure collector. And he was annoyed when someone called his tin figures tin soldiers, because he only had a small part of those. And he was not enthusiastic if one called these tin figures lead figures. The worst thing for him was the term "lead soldiers". "The story of beer" and "The story of the fire brigade" ... that was his cup of tea, and he not only collected dozens of scenes, but he also had dozens of so-called dioramas built. From the size of a magic cube up to three foot wide.
Of course, our hobbies met when we reported about the "Bach figure". And you couldn't get better research options on this topic than those of my father-in-law. A full plastic, that is 3 D, was quickly agreed upon. It is the only one of its kind and - how good - it was flawlessly cool. Everything fit. And now I offer it in the shop as a blank figure - that's what collectors call the unpainted ones - and as a painted Bach tin figure.
The flat and much smaller and lighter Bach tin figure is much, much more work. We found two, but we didn't like either one at all. We liked them so little that we just don't wanted to offer any of them in the Bach shop. And because this annoyed us, and we had a capacity in the tin figure business" at hand with our senior, we thought about a motive and looked for an engraver. First he painted it suitably, then he designed the blank and introduced it to us. But ... to our horror the little angel had disappeared. And already it was no longer the monument that stands in Eisenach next to the Bach House and the Bach Museum. Unbelievable on the edge: The little angel who holds the book open for Johann Sebastian Bach actually makes as much work as the rest of the tin figure.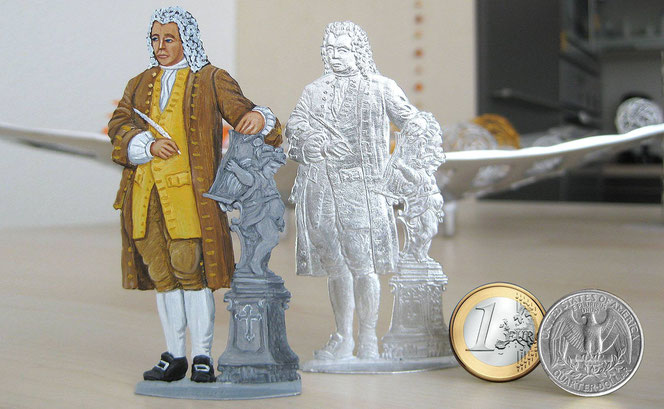 One flat Bach tin figure is a cool decoration, two – one of them unpainted – tell a story. Can you see the little cherub holding the book?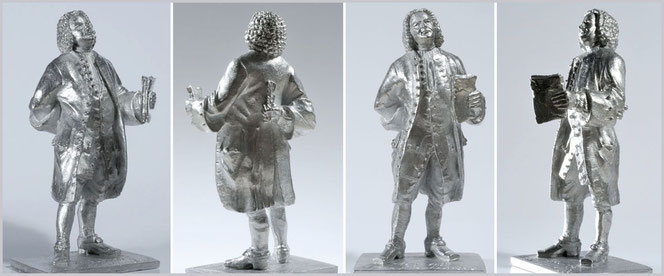 A so called "full 3 D" Bach tin figure. There are less than 1 percent 3 D tin figures around. Most of them are flat.
It's really heavy, this Johann Sebastian Bach tin figure.
---
The Bach Statue Is Also the Bach Monument 
For a long time, a really long time have we researched for the oncoming Bach figure. And we weren't successful for some 5 years. We desperately wanted to offer at least one in my Bach shop. We googled and googled and found two disappointing results: The first find was sold out for good. However, the second find was a success. That is what we thought. After we purchased one and decided, that this Bach statue was brilliant, the seller told us, that this was the only one, that was left and the company, which he worked together with, was bankrupt. We were so close and it was a huge disappointment. However, a team – Peter and I – that googles 9 hours to find a combination of "Bach + USA" and after that two Bach branches in America, doesn't give up. And finally we succeeded and found a seller abroad, in Spain. We were happy. And we still are.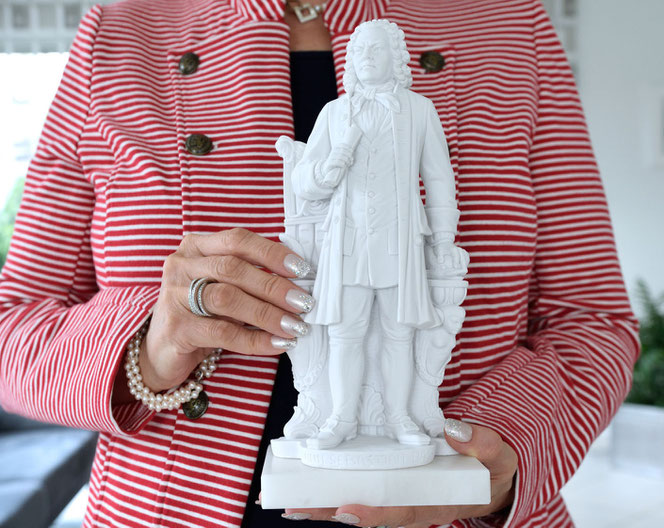 This Bach bust, better the Bach statue is photographed in 3 variations, from which this one is the best to show its size true to scale.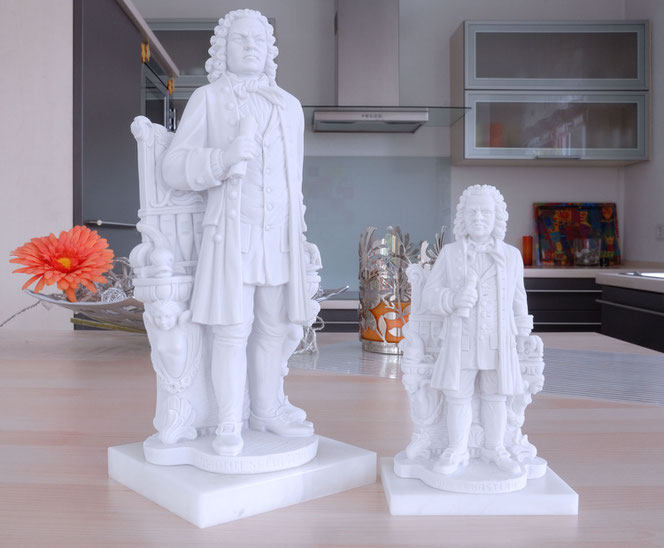 The real big Bach statue and the smaller Bach statue.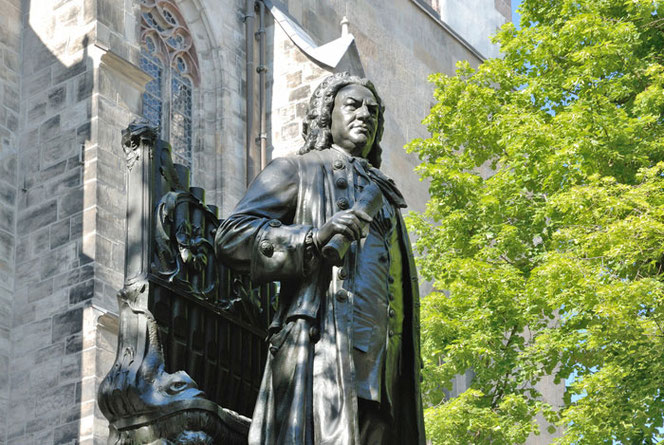 Cool? Yes, definitely cool. Did you know that back then, when Bach was also a famous choir leader and orchestra boss, conductors didn't have a baton, but conducted with rolled note sheets?
---
Long Live the Chance ... 
Every once in a while the Universe provides a little surprise, when you are looking for something absolutely different. And with that find, we can offer you that cool 3 D Bach bust in a wooden frame including passe-partout.
Yesss, with this lighting the whole depth becomes visible (... photographers talk).
---
We Waited 5 Full Years for You: Welcome, Little Bach Figure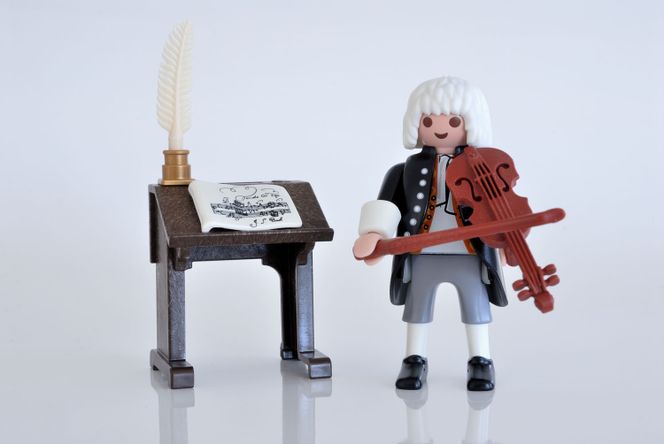 In fact, we were about to "create" such a small Bach figure ourselves with a 3-D printer. But – just in time – we found him. The little Bach, or the "Little Bach Figure" as it is called today in the publishing house.
---
Our Whole Pride: Bach from the Ore Mountains (Erzgebirge)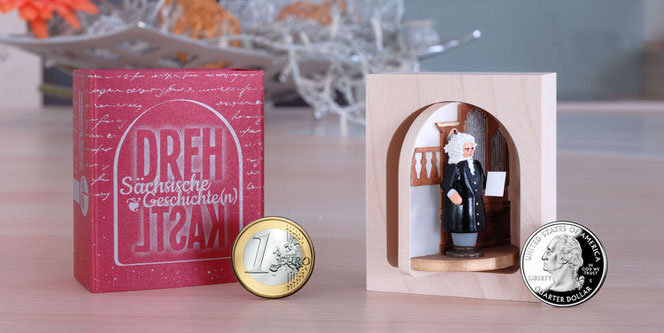 What, please, is that? It is a so-called "Drehkastl". And it's handmade.It comes from the Erzgebirge (Ore Mountains). That's why every single "piece" is unique. No assembly line, no factory. The Bach is tiny, the idea is cool and all this is perfect as a gift for a friend or family member who loves classical music and the composers of it. * ... a little turning box ... maybe?! 
---
Tadaa, One More Surprise from the Ore Mountains
We believe it's the tiniest Johann Sebastian Bach on the Planet and in the Universe. However, we are not sure. Of course. Important: This little guy is also handmade and for that reason a one of a kind. It started his way to you in the Ore Mountains.
---
Do You Have Edges in Your Home? Cool, Then We Have a Johann Sebastian Bach Edge Sitter for You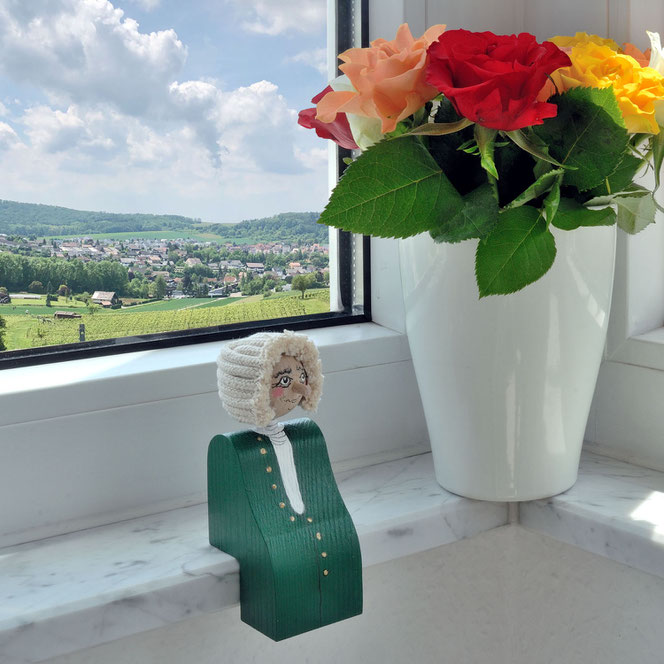 The small Bach figure "Edge Sitter": This small, cute Bach fits on many edges and of course you can also decorate it if you live by the sea and not in the vineyards in Southern Germany.
---
For Wine Bottles or Bottles with Other Cool Stuff: The Johann Sebastian Bach Bottle Stopper
Cool, you discovered the secret: This handmade guy is created by the same artist as the Bach edge sitter above.
---

A final reminder, promise. There are so many cool music gifts, we believe it's millions … learn more.
---
How Everything Began: the Real Bach Bust
The  Bach bust x 4, in all their splendor: the big one considerable and heavy, the very small one cute and funny.
---
Renate Bach Publishing "Bach 4 You" – Bildstrasse 25, 74223 Flein / Germany – Phone: +49 7131 576761 – info (at) bach4you.de