Genealogy in Germany … Your Genealogy in Germany: A Video About The Place in Europe Where Your Ancestors Once Lived ... A Unique Personal Gift by "Bach 4 You"
Genealogy in Germany. That can be far more compared to finding out "some birthdates and birthplaces". It can also be discovering where your family came from. Creating videos, that is what we did for a living for more than four decades. In Germany, we are market leader with that for the daily newspaper publishing industry. Now our Bach Mission and Peter's Bach, Jr.'s Project is much more exciting, but we still love to create these little videos, as you may already have discovered that by watching one these many art works in our Johann Sebastian Bach Mission.   ––
By the way: Do you want or need the help of a skilled genealogist, that is a family researcher in Germany? Click here to visit our friend's website, Andreas Christian Hoske.   ––
---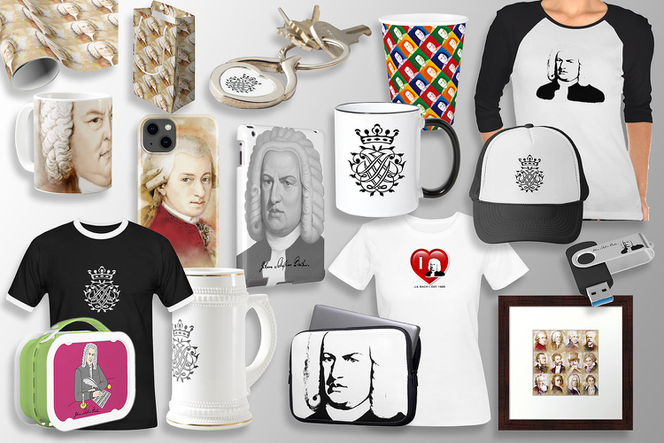 Please support our Bach Mission … learn more.    ––
---
Learn About the Sense Behind, the Service and the Honorarium
Firstly: The honorarium which you pay for such a small art work is mainly used to push the whole Bach Mission. It's not, like most service companies offer their work: It is not only based on the time and the value of our service. It is more like ( ! ) the option to buy the whole Johann Sebastian Bach postage stamp collection for € 8,000, the only complete postage stamp collection in the world. Alternatively, you may  book something very special, which is the exclusive  trip to Bach Country with "us two Bachs" for an honorarium of € 5,000: For us, all these three offers are "vehicles" to spread the knowledge about Johann Sebastian Bach and his work even more. If we are successful with that, we plan to establish a next Bach Museum.   ––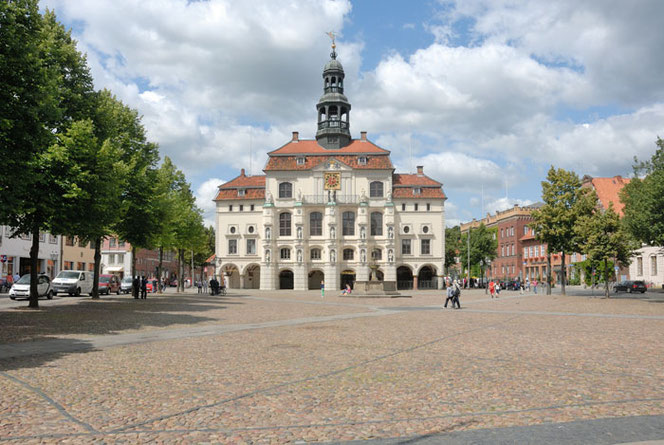 If your ancestors once lived in Lüneburg, Germany, this service would be perfect, as many pictures of the landmarks already exist. However, there are not enough photos, to avoid another trip to Lüneburg, but these landmarks in the sunshine are a cool foundation.   ––
Our Service in Germany and All Over Europe
Suggesting an honorarium for such a video, was not that easy, as there are so many options, distances and possibilities, that we had to find out, how we could suggest one perfect price. We came to the idea not to embed the distance cost, that is to say whether it is a longer trip and more time for that, or a shorter. We would create a video with photos for you even if your genealogy location is close to the north polar circle or as south as Sicily. It's obvious, that there is much more effort, to travel to North Norway compared to create that cute with photos from Pfedelbach, which is a community "in our backyard". So the honorarium for the video is either € 3,000 or € 2,000. It's more expensive with no text at all that leads to introduce your ancestor's home place. Travel cost add and that is € 1.00 (... check here, what's that in your currency) for every traveled kilometer according to Google Maps.    ––
Let's create two samples. You decide for the full service video, which is a flat fee of 3,000 €. The city which we portray is Stuttgart. Go to Google Maps. Hit in Flein and hit in Stuttgart. No street names. Chose the closest option, which – in this case – is 50 kilometers. So –to take the photos – I have to drive to Stuttgart (... 50 km ... you actually do not need the data in miles as we do a calculation based on kilometers) and back to Flein (... another 50 kilometers). Any driven kilometer in the field doesn't matter and doesn't count. So, it's a total round trip of 100 km. 100 km cost you 100 x € 1 = € 100. The total for you is then € 3,100, including VAT.   ––
Example 2: You decide for the small video package, which is a flat fee of € 2,000. However, this time, your ancestors once lived in Bodö, Northern  ( ! ) Norway ( ! ). And yes, Bodö is not located in Germany. We offer this service for cities and villages all over Europe. Again, you check on the distance at Google Maps. It is 2.762 kilometers (... check here what's that in miles) between Flein in Germany and Bodö in Norway. It's obvious, that this takes way longer than to drive to the neighbor city in the paragraph above. To keep it simple, it's my ( ! ) decision, whether I buy a flight ticket, rent a car in North Norway and book a luxury hotel room or an Airbnb apartment. You pay 2.762 (... kilometers) both directions (...  5,524 kilometers) x 1.00 € per kilometer. The total for our service is then € 2,000 + € 5,524 = € 7,524, incl. VAT. Please keep in mind, that actually this service was invented to provide it in Germany ... and Germany is a small country. However, we didn't want to exclude the options outside Germany. The third option costs € 4,000 and includes a general – not personalized – introduction, plus then a second part with individual narrated text.   ––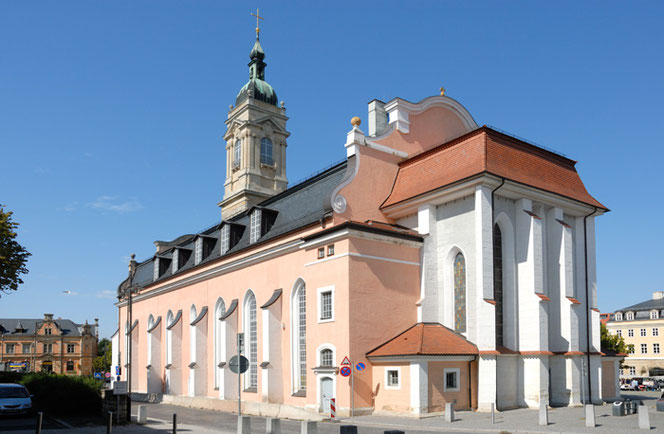 It's the same with Eisenach. Many cool photos with the perfect weather are already existing.   ––
About the Genealogy Part With Our Germany Video Service ... What Is It? What Is It Not?
The result of our service is definitely no tourist information. There are such videos out there which are perfect for such a goal. At the same time, it is no ( ! ) complete information about a village, a city or a metropolis. Actually it is nothing like something that already exists.   ––
However ... what is it after all? It is the foundation to be a unique gift to a loved one. Or a unique idea to present the hometown of a hobby genealogist to friends, family, neighbors, buddies, society members. It is a likable portrait of a place which matches your fun doing genealogy.   ––
Three Options ... Three Prices
Of course this service is not only related to the travel time and the time in the city or the village, where your ancestors once lived, but also to the research before, plus the time to create the text and to edit the narrated text. There is no additional work, if you prefer the video with music only and no narration at all. That means we have to check on the landmarks of your destination and make a trip to that village or city and take the photos. The finished video is a five minutes presentation with no narrated text for € 2,000. Don't forget the fee for the trip, like flight tickets, a rental car or gas and lodging. It's a flat fee of € 1 two times the distance between Flein and the targeted location. Both fractions contain the sales tax. In the section with Bach's 33 most favored music works you get a good feeling how such a video would be. However, the density of pic will be much higher. Pics change faster, and you will see more details of the targeted city, community, village or metropolis. Click here for a sample.   ––
Next option is the touristic-like presentation of your destination as an overview. This option takes more time, as we have to create the text before we travel to that town or community and after that, there will be the editing. The total honorarium is € 3,000. Plus the travel cost, as mentioned earlier. Both fractions contain the sales tax. There are several samples on my husband's website to get a feeling about the length and content of such a video version. Click here for a sample.   ––
The third option is very individual and has to be edited all over. However, the first part of the video will not be changed, nor will it be individual. For your ancestor's place it needs more research, a common check on the text and the pics and much more work with the photographed pictures and the narrated text. This video costs a flat honorarium of € 4,000 plus travel cost. Also, this option contains VAT. Watch the video with the destination "Pfedelbach, Germany" as an example. Click here.   ––
The Weather Is So Very Crucial
My husband Peter is an "old-school" professional photographer. He started, like his dad and business partner,  Peter Bach, Sr., more than 40 years ago taking slides. And he did that for the tourism industry. Back then one thing was crucial with his work and hobby: Sun, sun, sun. Still today, long after slides were around and slide projectors, one thing is sure: 60 percent quality of a photo of cities and landscapes is what sunshine ( ! ) delivers. Green nature is an additional 30 percent quality and the remaining rest, is what the person adds, who takes the photos. So we – my husband and I – would suggest, not to take photos earlier than May, when the trees start to become light green and not after the fall came to an end and the last nature color disappeared, which is during October.   ––
Predicting the weather for taking photos isn't that easy. Even if the weather, which is predicted comes along, the probability is high, that it comes faster or slower than expected. So, to deliver a perfect portrait of the community where your ancestors came from, can be accomplished either with the best sunshine or right away. It goes without saying, that we wouldn't take photos, when it is raining. But it is on you, whether you need that result fast or first class. However, you can change your mind later. Say, there was no perfect "three day high pressure period" around (... Peter would decide for the second day of such an announced time period, so it doesn't matter, whether the weather "develops" faster or slower ... he plays it save with the day in the middle), you may change your mind after two months of waiting and send him to this place on the next oncoming day without rain. The price however, is the same.   ––
You Will Know in Advance What You Get
As the video what you get is a final version with no adjustment options, we must be sure, you are definitely and 100 percent happy, with what we deliver. On the other hand we are professionals with a 40-year experience, and we did such service for huge newspaper publishers and news agencies all over Germany. And that is as a market leader. So, nothing can go wrong.  ––
You do know the quality of our photos. You will get the same standard. No blur or too dark motifs, excellent scene views, cool details. Next there is the text. We will edit it, and you get a copy to adjust any grammar, so that the result will be flawless, which is much better than our English here. Next is the voice-over. You will be able to listen to the very narration artist, that will narrate your personal video. With these steps, you definitely know everything which might spoil your joy about your video.  ––
"Bach 4 You" Is the Specialist in Pipe Organ Calendars, Music Calendars, Bach Figures, Bach Beer Steins Plus Bach and Music T-Shirts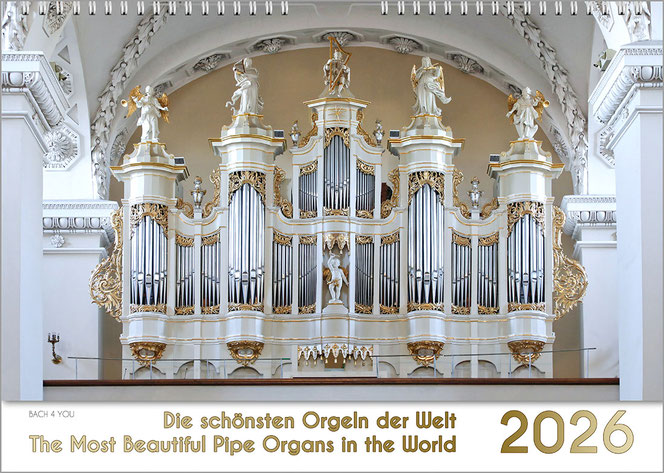 Pipe organs wall calendars. Find out more.   ––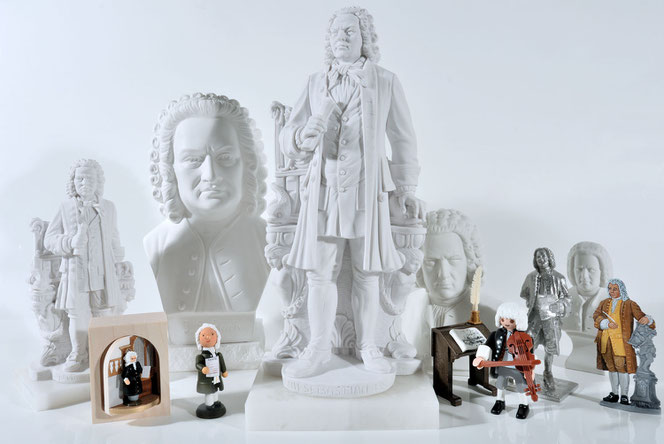 All are impressing: all Bach figures and all Bach busts.    ––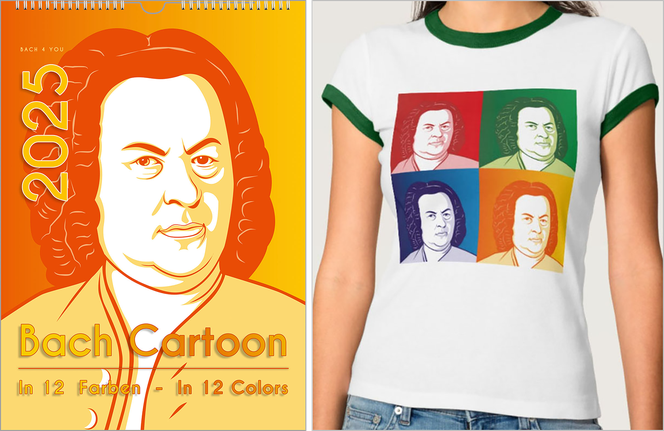 One of the 33 Bach calendars on the left, one of the many Bach T-shirts on the right.   ––
---
Renate Bach Publishing "Bach 4 You" – Bildstrasse 25, 74223 Flein / Germany – Phone: +49 7131 576761 – info (at) bach4you.de